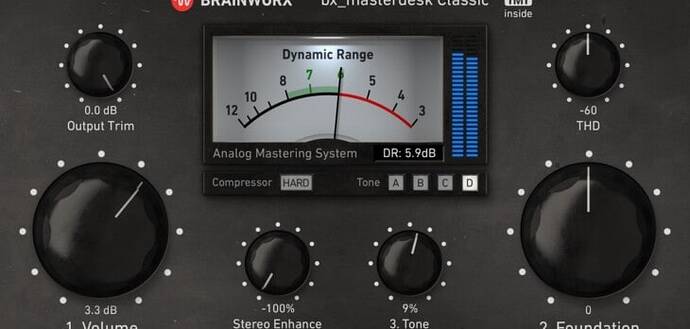 Plugin Alliance offers the bx_masterdesk ($149 retail price) mastering plugin by Brainworx as a FREE download until November 24th, 2021.
bx_masterdesk is typically priced at $149, but you can use the coupon code BX-FOR-FREE to get it completely free of charge at Plugin Alliance.
I got bx_masterdesk for free during one of Plugin Alliance sales (with a $20 coupon), and it's quickly become one of my go-to plugins on the master channel. I actually have a mastering template in Studio One, and bx_masterdesk is one of the few plugins used in that template.
The plugin features a streamlined interface that won't confuse users with unlimited control parameters and millions of features. Instead, it offers a streamlined 3-step workflow with intuitive controls and a dynamic range meter which will help you find the compression sweet spot with ease.
The idea is to make it possible to master a song in under 60 seconds. bx_masterdesk includes a variety of mastering presets that are suitable for different music styles. Choose the preset that works best for your song, then fine-tune the available control parameters for best results.
Of course, this isn't a substitute for having your music mastered by a professional mastering engineer. Still, it's helpful when you're mastering a demo track or when you want to speed up your mastering process. I often use bx_masterdesk as a reference tool for A/B testing my mastering chain against it.
bx_masterdesk also takes advantage of Brainworx's signature TMT (Tolerance Modeling Technology), which simulates the slight variances of the hardware components in the software realm.
Here's more info about the plugin:
"Brainworx' bx_masterdesk Classic gives you the sound of a complete high-end analog mastering system in one incredibly easy-to-use plugin. Dial-in professional-sounding masters in just 3 simple steps."
Hear the plugin in action in the demo video embedded below.
bx_masterdesk is available in VST2, VST3, AU, and AAX plugin formats for compatible DAW software on Windows and macOS. Only 64-bit plugin hosts are supported.
You'll need to sign up for a Plugin Alliance user account (valid email address required) to download and activate your free copy of bx_masterdesk.
This is a limited-time offer that expires on November 24th, 2021.
Download:
bx_masterdesk (FREE with coupon code BX-FOR-FREE until November 24th, 2021)
---
↑↑↑ 上方链接直接到达 ↑↑↑
资讯出处:Brainworx bx_masterdesk Is FREE For A Limited Time Only! - Bedroom Producers Blog