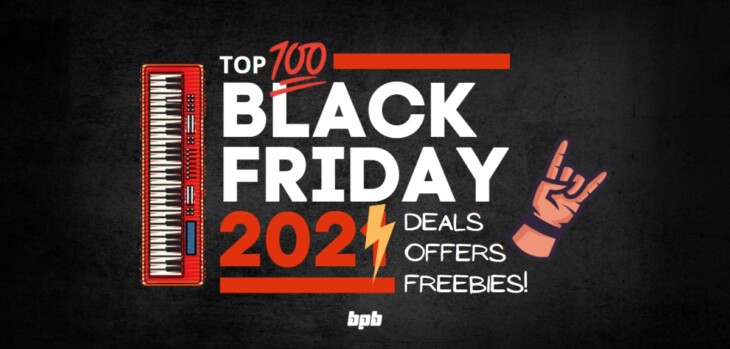 Black Friday 2021 is two weeks away, but the deals are already here. As always, BPB listed the best Black Friday discounts and freebies for music producers. The article will be updated daily until the end of November.
The list is organized into four sections: Software Deals (featuring discounted VST plugins and digital audio workstations), Soundware Deals (featuring sample packs and Kontakt libraries), Hardware Deals (studio gear and hardware instruments), and Freebies.
The no-brainer deals are highlighted in red, and our favorite discounts are highlighted in yellow.
You are more than welcome to share your favorite deals and offers in the comments section below (thank you!
). The best ones will be added to the article.
OK, let the Black Friday 2021 season on BPB begin!
FULL DISCLOSURE: This article contains partner links.
Software Deals – Black Friday 2021
Plugin Boutique (get a FREE plugin of your choicewith any purchase):
ADSR Sounds (get a FREE copy ofBABY Audio Parallel Aggressor with any purchase):
HOT! VSTBuzz offers a no-brainer 93% OFF deal on the "Drum Synth 500" drum synthesizer by AIR Music.
Audio Plugin Deals launched an 80% OFF discount on the Bulldog guitar amp by Audio Assault. The offer ends on November 20th.
FAVORITE! Soundtoys are back with another epic Black Friday sale. Get up to 73% OFF best-selling Soundtoys audio plugins and a $129 deal on Effect Rack. Or, get it all with the Soundtoys 5 Bundle ($499 value) at the lowest price of the year ($229). The sale ends on December 1st.
HOT! Waves Audio launched the Black Friday Early Bird Sale. The top-selling plugins are available for $29.99, and bonus discounts are available when purchasing multiple plugins.
IK Multimedia is offering special introductory pricing on Total Studio 3.5 MAX and Total VI MAX, as well as MAXtacular savings on other MAX collections. Through November 30th, you can save up to 50% on SampleTank 4 MAX, T-RackS 5 MAX, and AmpliTube 5 MAX.
FAVORITE! IK Multimedia is celebrating its 25th Anniversary with extensive Black Friday Krazy Deals. The company offers its most popular music software programs for just $/€39.99 each!
Image-Line launched the Black Friday 2021 sale with FL Studio All Plugins Edition, which is now 20% OFF (includes $300 worth of bonus VST plugins and samples). The sale ends on November 30th.
United Plugins announced the Black Friday sale: "All our plugins are now at 50% of their regular prices. All but one. Our newest plugin UniChannel is still sold with a 78% intro discount." In addition, you may also grab the All Black Bundle containing 21 plugins at a total cost of €2219 for just €499 (or even less if you already own some of them).
FAVORITE! Black Rooster Audio offers the ALL Bundle, including every Black Rooster Audio plug-in released to date, for only $99 (worth $1846)! Thanks to BPB reader Aris for the info!
Reason Studios offers a three-month subscription for $1 (in collaboration withWaves Audio)!Thanks to BPB reader Thomas M. for the info!
Ugritone launches the Black Friday sale with a sitewide 15% OFF discount (use coupon code15Off at checkout).
Babelson offers all individual products for €29 and a 50% OFF deal on all bundles.
Soundware Deals – Black Friday 2021
Hardware Deals – Black Friday 2021
Reverb.com offers 15% OFF on thousands of new, used, and vintage pieces of gear during Reverb's Pre-Black Friday sale. From November 15th to November 21st, find deals on gear from brands like Fender, Ibanez, Gibson, Boss, Ludwig, Zildjian, and more.
Reverb.com offers the Mystery Box, which could be the perfect Holiday gift for musicians.
Freebies – Black Friday 2021
So many Black Friday deals already, and this is just the beginning!
The article will be updated daily with new Black Friday 2021 VST plugin deals, special offers, and freebies.
You can post your favorite offers and discounts in the comments section below. The best ones will be added to the article (thank you for your support!).
Stay tuned for more epic freebies this Black Friday and Cyber Monday season.
---
↑↑↑ 上方链接直接到达 ↑↑↑
资讯出处:Black Friday 2021 Deals (For Music Producers) - Bedroom Producers Blog