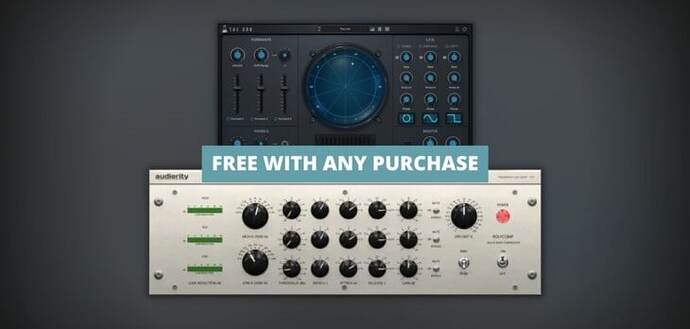 Plugin Boutique previously offered four plugins for free with any purchase (read our article about that offer), but they have now extended the offer and added two new plugins! You can now choose any one of six different plugins for FREE with any paid purchase on their site until November 30th, 2021.
Here's the complete list of the plugins you can choose from:
Audiority PolyComp
AudioThing The Orb
Heavyocity PUNISH Lite
AAS Sound Bank
Mastering The Mix LEVELS
United Plugins Autoformer
This offer is only valid until November 30th, 2021, so pick any plugin of your choice from their shop and get one of these for free!
To note, you can't use 'Virtual Cash' or a coupon to pay for the entire transaction, but any amount less than 100% is okay and qualifies. If you make six purchases, you can claim all six freebies!
If you're not familiar with Audiority's Polycomp or AudioThing's The Orb, here's a quick breakdown of each:
Audiority PolyComp
PolyComp ($45) is a three-band compressor. The three bands are all independent compressors with their own controls. Each band can be bypassed or muted, and the controls available are:
Threshold
Ratio
Attack
Release
Gain
There is also a DRY/WET knob to set the room size and for reverb. You can also save your settings as a preset. The compressor is VCA-based, which will preserve your sound while smoothing out harsh peaks in the signal.
Overall, this is quite easy to use, and it sounds great if you're looking for a simple multi-band comp with an analog feel.
AudioThing The Orb
The Orb ($49) is a format filter. Format filters change the input signal to give sound the characteristics of human speech. Not to be confused with artificial vocal plugins, the Orb makes your music sound like spoken vowels.
You can choose from ten different vowels, and you can use the central display to drag and set which vowel sound you want and the intensity of the effect. But that is not all. The LFOs allow you to oscillate the vowel sounds over time or over the number of beats.
There are three LFOs, one for changing vowels, one for changing the intensity of the vowel sounds, and one for drifting within the vowel sound independent of intensity.
There is a smooth option for better transitions between the vowels and a drift range option to set the magnitude of drift. You can change the voice to make it closer to a male voice, a female voice, or a child's voice. You can even make your own custom voice with whatever characters you prefer using a straightforward editor built into the plugin.
Overall, the Orb is a super cool plugin that can turn just about sound source into a voice-like effect. It'll easily find its place across a range of music, and it's perfect for experimenting with new soundscapes.
More info:
Plugin Boutique (FREE plugin with any purchase until November 30th)
---
↑↑↑ 上方链接直接到达 ↑↑↑
资讯出处:Audiority PolyComp & AudioThing The Orb FREE With Any Purchase - Bedroom Producers Blog