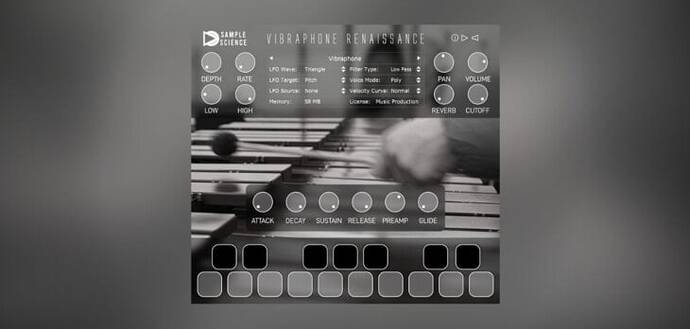 SampleScience releases Vibraphone Renaissance a freeware sample-based VST plugin for Windows and macOS. The instrument is also available for Reason 12 and Decent Sampler.
Vibraphone Renaissance uses audio samples that were extracted from a damaged vibraphone recording. SampleScience reconstructed the sounds using spectral repair, which is why the instrument was named Vibraphone Renaissance.
Those familiar with SampleScience's previous work will know exactly what to expect from the plugin. It's a sample-based virtual instrument with a charmingly lo-fi sound and some handy options for reshaping the audio.
The user can adjust the ADSR envelope, apply modulation, add some reverb, and shape the tone using the built-in multi-mode filter. The instrument is lightweight, easy to use, and more than capable of delivering some inspiration vibraphone sounds.
The Decent Sampler edition of Vibraphone Renaissance uses the same source samples, but the controls are a bit different. It features a simple attack/release envelope, a low-pass filter, a delay effect, and a reverb with the option to adjust the room size and damping intensity.
Decent Sampler is a free plugin that's slowly but surely becoming one of the best freeware options for making sample-based instrument libraries.
The Reason ReFill version adds even more effects. It features a reverb, a delay, a Lo-Fi effect, and a built-in equalizer. Please note that the ReFill edition requires Reason 12 and up or Reason+.
Check out the audio demo below to hear Vibraphone Renaissance in action.
Vibraphone Renaissance is completely free to download from SampleScience's website. You can send an optional donation to support the developer.
If this is your first time visiting SampleScience, be sure to check out their previous releases. There are dozens of virtual instruments waiting to be discovered, from lo-fi pianos to cinematic soundscape generators.
BPB collaborated with SampleScience to create the freeware GB DrumBox plugin. Be sure to check it out if you're a fan of old-school video game sounds.
Download:
Vibraphone Renaissance (109 MB download size, ZIP archive, 64-bit VST2/AU plugin format for Windows & macOS, Decent Sampler, Reason)
---
↑↑↑ 上方链接直接到达 ↑↑↑
资讯出处:Vibraphone Renaissance Is A FREE Sample-Based Instrument By SampleScience - Bedroom Producers Blog