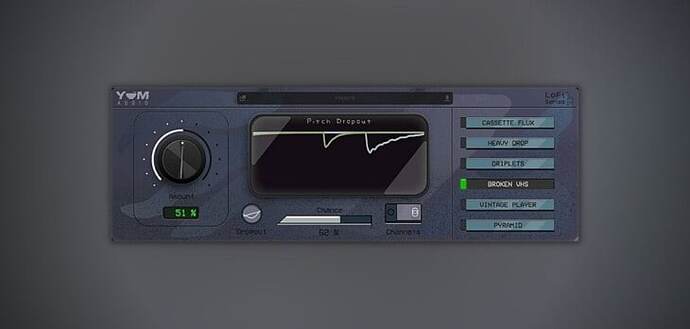 Yum Audio offers the LoFi Pitch Dropout (€75 value) plugin as a FREE download until November 30th, 2021.
We reviewed Yum Audio plugins earlier this year, and LoFi Pitch Dropout stood out as an excellent tool for adding a lo-fi vibe to audio tracks.
The plugin features six different processing modes: Cassette Flux, Heavy Drop, Driplets, Broken VHS, Vintage Player, and Pyramid. It can deliver a variety of lo-fi tape flavors while being easy to operate.
You simply select the lo-fi algorithm and adjust the intensity to get the desired tape warble effect. The Chance slider controls the probability of an audio dropout occurring, so you can fine-tune the amount of audio degradation. The real-time waveform display shows how the dropout algorithm affects the audio source.
If you're a fan of lo-fi effects, LoFi Pitch Dropout is one you shouldn't miss, especially during this Black Friday offer. It's one of the quickest and most authentic ways to apply a VHS-style effect to your audio.
Check out the demo video below to see LoFi Pitch Dropout in action.
LoFi Pitch Dropout usually costs €75, but you can get it for FREE as part of Yum Audio's limited-time-only Black Friday offerings.
The freebie deal is just one part of Yum Audio's Black Friday special. The company also offers a range of discounts and time-limited offers on other plugins and bundles.
There are two bundle deals:
The ALL-IN Bundle with all Yum Audio plugins (value of €545) is available for €99;
The LoFi Bundle with all plugins in the LoFi series (value of €397) is available for €69.
Yum Audio is also launching a series of Flash Sales with a different offer every day. The first on the list is a special deal on LofI Playtime (value of €99), which is available for €19. Visit the LoFi Playtime product page on Yum Audio's website to take advantage of the 24-hour deal.
All following Flash Sales will be announced on Yum Audio's mailing list and social media channels. Subscribers and website visitors will be informed of the specific Flash Sale happening that day.
IMPORTANT: The FREE download offer on LoFi Pitch Dropout launches on November 26th at 8 am (GMT+1).
Download:
LoFi Pitch Dropout (FREE until November 30th, 2021)
---
↑↑↑ 上方链接直接到达 ↑↑↑
资讯出处:LoFi Pitch Dropout By Yum Audio Is FREE Until November 30th - Bedroom Producers Blog