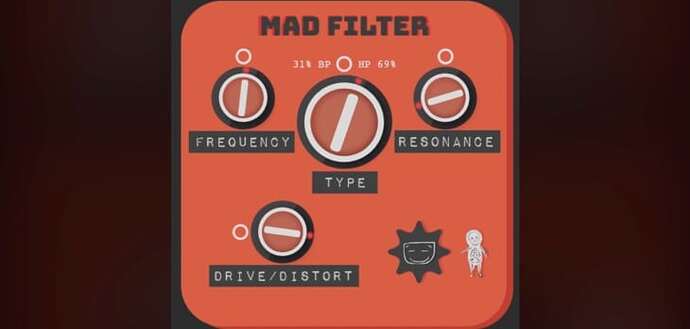 As part of their end-of-the-year discounts, Rast Sound is offering their plugin Mad Filter for free.
Mad Filter will help you add character and movement to your sound. The developer claims that Mad Filter features a state-of-the-art drive and filters circuit that emulates the characteristics of analog filters. The result is warm and rich-sounding tones.
The plugin lets you transition between different filter types: low-pass, high-pass, bypass, and notch. These can be used to create unique filters in your sound.
A unique characteristic of the Mad Filter is that you can mix the different filter types. This means that you do not have to spend hours manually automating the filter, the plugin will generate the unique sound for you.
Although the visual interface is simple-looking, the different knobs can be used to drastically alter the sound. The small circles on top of the knobs can be used to trigger natural yet complex LFO movements.
You can also add randomization with the 'Go Mad' and 'Go Madder' icons at the bottom of the plugin. This can be useful for musicians and producers who want to humanize their sound to a certain extent.
The Mad Filter can be used for all genres of electronic music. It is also great for beginners who are looking for a fun and easy-to-use filter plugin.
That said, it can also be a great addition for those looking for a simple but unique filter plugin.
While the most common instrument to use the filter on is on a bass track, using it with drums or different kinds of synths can have very interesting outcomes.
The plugin is available in 64-bit for Windows as well as macOS users. It is currently available in VST and AU formats, but not AAX. It is recommended that you have at least 4GB or higher RAM in your computer to run the plugin smoothly.
Since this is a limited-time offer, you may want to download this quickly.
Rast Sounds also offers massive discounts on Daily Lightning Deals. These offers last only for 24 hours.
As part of their 'End Of The Year Offers', Rast Sounds is also offering a 50% discount on some of their plugins such as Naturaliser, Transformer, and Evolver.
These are also applicable for many other vocal, cinematic, and world rhythm plugins. You need to use the code "YES21" at checkout to avail the discount. Their Fume Originals Collection has a 88% discount on account of Black Friday.
Download:
Mad Filter (64-bit VST3/AU plugin format for Windows & macOS)
---
↑↑↑ 上方链接直接到达 ↑↑↑
资讯出处:Mad Filter Is A FREE Analog-Style Filter Effect By Rast Sound - Bedroom Producers Blog