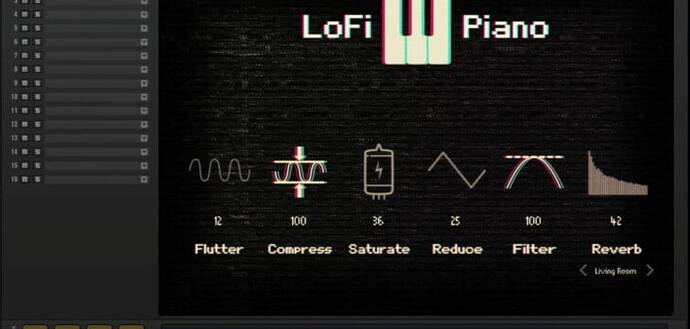 Steinberg releases LoFi Piano, a FREE tape-saturated piano for macOS and Windows.
LoFi Piano is an instrument library for HALion and works in the free HALion Sonic SE (which is why it reminded me of another free HALion piano).
I rarely miss the chance to download a free piano or any kind of LoFi plugin, so I was in straight away with both combined.
LoFi Piano is an upright piano recorded with vintage microphones. There are a bunch of presets and six effects to add character, but even with all effects turned off, the piano has a real rustic, nostalgic quality.
It's sweet and dreamy, but not in a gimmicky way; it has that old piano in the basement vibe.
If you want to really bring out the dusty basement charm, you can start to bring in the effects. The six included effects are Flutter, Compress, Saturate, Reduce (sample rate), Filter, and Reverb.
The Flutter effect emulates the inconsistency of a tape machine, and it's a core element of the LoFi sound. In most cases, I like to have the Saturation on the verge of breaking, but not quite over the edge.
Tweaking the Compression and sample rate can help enhance the characteristics defined by the Flutter and Saturation.
The Filter is a convenient effect if you need to thin the piano sound slightly. As well as helping it sit nicely in a mix, it makes it feel like the piano barely has any life left in it, which adds to the mood.
There are multiple Reverb types and locations; two of my favorites are Attic and Mansion. There's something inherently sad in picturing an old piano in a run-down, abandoned old mansion that time forgot; it screams of loneliness.
LoFi Piano has quite a lot of presets with some interesting names, like Abandoned Hotel, which is one of the nicest ones. Another one of my favorites is Running Through Tape, which is an excellent example of maxing out the Flutter in a tasteful way.
As far as free pianos go, I love this one and don't have any complaints at all. It sounds great, and it brings all of the LoFi qualities with no fuss or messing around.
I wish I could say the same about the Download Assistant and eLicenser Control Center, but I'm not a fan of either.
With that said, maybe my experience wasn't typical, and next time will be better. Either way, don't let it put you off grabbing what is an outstanding freebie.
Register an account with the Steinberg website to get your free LoFi Piano.
Download:
LoFi Piano (compatible with HALion Sonic SE)
---
↑↑↑ 上方链接直接到达 ↑↑↑
资讯出处:LoFi Piano Is Steinberg's FREE Piano For HALion Sonic SE - Bedroom Producers Blog