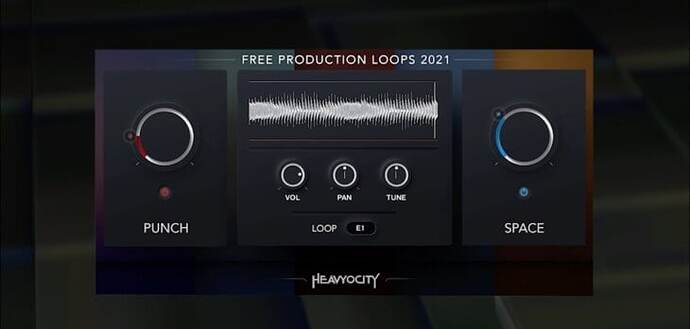 Heavyocity releases FREE Production Loops 2021, a free collection of audio loops for music producers and composers. The collection is available in WAV, Apple Loops, and NKI formats (requires NI Kontakt).
Heavyocity launches a pack of Free Production Loops every year, featuring samples created using digital instruments from their catalog. The looped sounds are available for FREE on their website to showcase their incredible Mosaic Series instrument plugins.
The Free Production Loops 2021 features samples created using their Mosaic Series of Kontakt libraries. There are 72 loops in the pack, and each has a unique musical foundation for maximum versatility.
The sound bundle packs everything; synth, drums, vocals, bass, etc. The samples come in three formats, WAV, Apple Loops, and Kontakt FULL. The Kontakt full version has options for editing the Punch and Space aspects, along with the standard Volume, Pan, and Tune controls.
The Punch element alters the amount of 'impact' a loop has, while the Space aspect allows you to change the room size. Despite the library's limited scope, these editing tools help you personalize every loop and reduce repetition, so you can get a lot of great tones from this small pack.
There are 36 straight loops in the pack and 36 triplet loops for a total of 680 MB when uncompressed. The plugin works with Kontakt 6.6.1 onwards, only on full versions. But the WAV files and Apple Loops can be used however you like.
Here's a quick demo of the loops in this pack:
Though you can use it for any music production needs, royalty-free, Free Production Loops 2021 is an indirect demo of Heavyocity's Mosaic Series. If you love this year's Free Production Loops, consider getting the Mosaic Series.
All samples in the Free Production Loops 2021 are based on five instruments from the Mosaic Series:
Mosaic Voices
Mosaic Keys
Mosaic Bass
Mosaic Tape
Mosaic Pluck
You can get each of the above instruments for $120 each on the Heavyocity website and make your own loops and much more with total freedom. The quality of these instruments is truly excellent.
Note that you will need to download and install the Heavyocity Portal and sign in/sign up to install the Free Production Loops 2021. You do not need Native Access to install these.
Heavyocity makes some of the best UI's from looks to ease of use, and of course, they deliver in the sound design department. These free loops are a generous offering and definitely worth checking out.
Download:
FREE Production Loops 2021 (WAV/Apple Loops/NKI)
---
↑↑↑ 上方链接直接到达 ↑↑↑
资讯出处:Heavyocity Releases FREE Production Loops 2021 - Bedroom Producers Blog