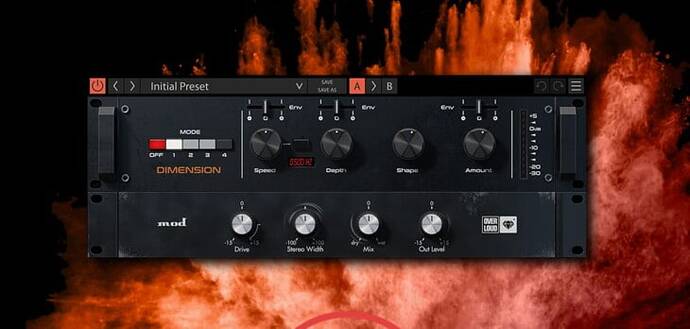 Overloud offers its Gem Mod ($99 value) modulation plugin as a FREE download for a limited time. Only 1,000 free licenses are available every day until December 20th.
Earlier this year, Gem Mod was already offered as a freebie (read our Gem Mod freebie article for more info). If you missed that offer, here's your chance to correct the mistake.
Based on Roland's famous Dimension D chorus/modulation hardware unit, Gem Mod is meant to make your vocals, guitars, pads, and other instruments sound wider and fuller.
It expands on the original's streamlined control layout with additional control parameters that provide more advanced customization capabilities. Users can fine-tune the stereo width, drive/saturation, and mix balance, in addition to the modulation controls (depth, speed, and shape).
Much like the original, the Gem Mod plugin lets you select and combine different modulation "presets" using the five buttons. Press multiple buttons to create more complex modulation shapes.
To make things more interesting, you can control the parameters via the input envelope. This will make the plugin respond to the input signal's volume.
Check out Overloud's flagship Gem Modula modulation unit for even more features. But if you prefer plugins that deliver great-sounding results in just a few clicks, Gem Mod is a great choice.
"The Dimension unit offers a very soft and organic modulation. It was the go-to unit for vocals in the 80s and 90s, but it can also be used on a full mix to increase the space perception without adding reverb. Its input section has a very musical harmonic generation when pushed into saturation.
The GEM MOD extends the original hardware features and combines the flexibility of the digital world to the character of analog processing."
You'll need to register an Overloud user account to get a free copy of Gem Mod. Please note that only 1,000 free licenses are available each day.
Gem Mode is available in VST, AU, and AAX plugin formats for digital audio workstations on Windows and macOS. Both 32-bit and 64-bit plugin hosts are supported.
More info:
Gem Mod (1,000 free licenses available every day until December 20th, 2021)
---
↑↑↑ 上方链接直接到达 ↑↑↑
资讯出处:Overloud Gem Mod Is FREE (Again) Until December 20th - Bedroom Producers Blog