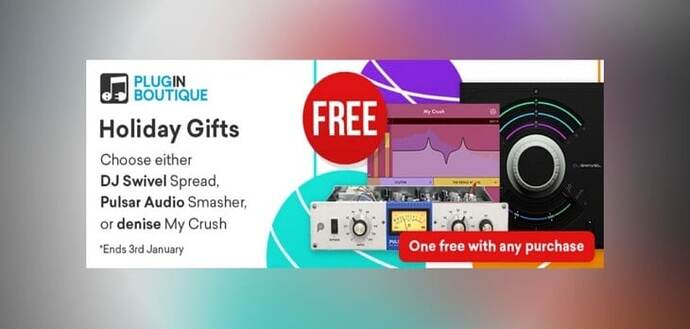 Plugin Boutique is running a Holiday Gifts offer, where you can get any one of three plugins for FREE with any paid purchase at their store. The offer lasts till 3rd January 2022.
The free VST plugins available are DJ Swivel Spread, Pulsar Smasher, and denise My Crush.
There are some rules for the offer – you need an account with Plugin Boutique, there should be a paid product in your basket, and you can't use their Virtual Cash to pay for 100% of the transaction (a discount is okay).
Here is a brief description of the three plugins on offer:
DJ Swivel Spread
If you have trouble setting up stereo using mono samples or recordings, Spread (retail $39) can make your life a bit easier and save you lots of time.
DJ Swivel Spread is a stereo imaging software that can make your sound ultra-wide with astonishing ease. And the interface is really simple and easy to use too.
Pulsar Smasher
The Pulsar Smasher (retail $49) is a specialized digital version of the Urei 1176 compressor. It emulates what happens when you pull all the stops and dial everything on the Urei 1176 to full. It distorts everything to add an aggressive taste.
Though not the most versatile plugin, the Pulsar Smasher can bring some percussion tracks to life and is great for some added creativity.
denise My Crush
My Crush (retail $108) is a special version of the Bite Harder bitcrusher produced by denise. Bite Harder is a well-received plugin by denise, so they wanted to re-release it with some awesome presets, making it even faster and easier to get great results. The My Crush features the same algorithm, but with a simpler interface.
Much like Bite Harder, you can absolutely decimate your sound with the My Crush till there is only binary goodness left. It also has a Stutter Fader setting that lets you add fresh new effects to your samples, MIDI, and recordings.
Claiming Your Gift
To claim the offer, just click on "Add to Cart" for any paid plugin or another product and go to your 'CART'. Head to "Choose your gift" from your cart and click on "Claim Gift". Choose the present you want and click on "add to bag". You can then proceed with the transaction.
So if you were planning on buying something from Plugin Boutique, now's a great time because you can combine some great discounts with these free plugins!
More info:
Plugin Boutique (FREE with any purchase until January 3rd, 2022)
---
↑↑↑ 上方链接直接到达 ↑↑↑
资讯出处:Plugin Boutique Holiday Gifts: FREE Plugin With Any Purchase - Bedroom Producers Blog