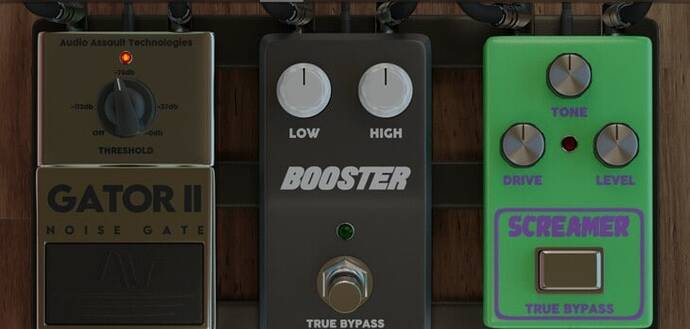 VSTBuzz offers an 80% off deal on Audio Assault's AHM 5050 Dual Amp Sim plugin. Until the 28th of December, you can buy AHM 5050 for €8 (€40 value).
Audio Assault says the AHM 5050 has been modeled after one of the most iconic high-gain amplifiers ever made. That amp is, of course, the EVH 5150III; the bold design gives it away before even getting to the sound.
The EVH 5150III comes in two versions representing the type of tubes used, the 6L6 and the EL34.
In terms of tonal character, the EL34 tube is commonly referred to as the quintessential British sound, with the 6L6 providing a more American tone. There are some prominent differences between the two, mainly when driven, but which is better depends entirely on personal preference.
A feature that I like straightaway with the AHM 5050 is that it lets you blend between the two tube sounds rather than be forced to choose one or the other.
Another standout feature is the Dual cab IR Loader. The interesting thing about this feature is that you can change the mic position with little or no limitations with any IR.
Considering the regular retail price is relatively low, the AHM 5050 is quite a fully-loaded amp sim.
As well as the Amp and Cab settings, the GUI has another two pages: Stomp and FX.
The Stomp section features three stompboxes: a gate pedal, boost pedal, and drive pedal. Between the three pedals, you can control, shape, and push your tone to the limit.
Moving on to the FX section, you get a nine-band EQ, Chorus, Delay, and Reverb.
If you're buying an EVH 5150III, it's probably fair to say you are after a particular sound, and that's also true of this plugin. I'd imagine the Crunch channel will be very popular, although I'm not a fully-fledged Metalhead and prefer the Clean/Lead channels.
Having said that, when I visit a new city, I like to wander aimlessly, and when I do, System of a Down is often in my earphones. I guess I like the blend of calm and chaos, not in a Patrick Bateman, American Psycho way, of course.
If you want that EVH 5150III sound on a budget, I think Audio Assault has done a great job recreating the sound and feel of an iconic amp. I should also say that while it has a signature sound, the features of the AHM 5050 mean it's not without versatility.
Overall, it's a lovely-looking plugin that sounds great for €8.
While talking guitar, I should mention a couple of past freebies in case anyone missed them; Arboreal Audio's STR-X amp sim and The Klone overdrive pedal from Fazertone.
AHM 5050 is available in AU, VST2, VST3, and AAX formats for macOS, Windows, and Linux.
More info:
AHM 5050 (80% OFF @ VSTBuzz)
---
↑↑↑ 上方链接直接到达 ↑↑↑
资讯出处:Get 80% OFF Audio Assault AHM 5050 Dual Amp Sim (€8 Deal) - Bedroom Producers Blog