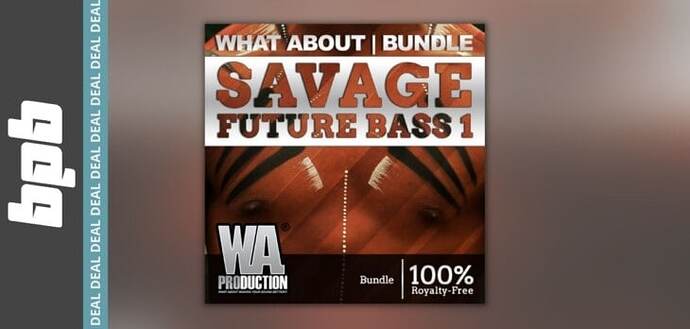 W.A. Production offers an exclusive BPB discount on the Savage Future Bass Bundle 1. The bundle that usually costs $64.60 is available for $10 using the coupon code WABPB10.
The coupon code will only work if the Savage Future Bass Bundle 1 is the only thing in your cart. That means if you're buying other products, you should do so in a separate order to ensure you get the discount.
You'll also have to remove the FREE product that will be in your cart by default as part of another promotion.
The bundle includes Future Bass Essentials 1 and 2, Future Bass Tools, Future Bass Essence, Sounds of Future Bass, and Future Bass Tips & Tricks.
Between the included packs, you'll get an extensive collection of construction kits, loops, one-shots, synth presets (Sylenth, Spire, Massive), vocals, and more. They cover a range of instruments, from drums and bass to synth plucks and chords.
You'll also get MIDI loops, which you can always use in various creative ways.
Future Bass Tips & Tricks seems a pretty interesting addition. It's a collection of six videos from Josh Isaacs that will walk you through the basics of Future Bass production. As well as production tips, the videos discuss chord structure and other compositional techniques. I think it's cool that W.A Productions put these tips together, particularly for anyone entirely new to Future Bass or music production as a whole.
If you are working on any Future Bass projects or just fancy getting into one, the Savage Future Bass Bundle 1 has everything you need to get started (and finished).
Having listened to the demos, I have to say it sounds good. It's everything you'd expect from Future Bass and Chillstep, and it's very cool.
My only complaint is that it might be too cool. Whenever I hear Future Bass (or any similar sub-genre), I feel like whatever I'm doing at the time isn't nearly exciting enough. I feel like I should be living in a montage of supercars, speedboats, and nightclub VIP sections.
In reality, I'm usually at a laptop drinking coffee.
Remember, nothing else in your cart!
More info:
Savage Future Bass Bundle 1 (use coupon code WABPB10, make sure it's the only item in the shopping cart)
---
↑↑↑ 上方链接直接到达 ↑↑↑
资讯出处:BPB DEAL: Savage Future Bass Bundle 1 By W.A. Production - Bedroom Producers Blog