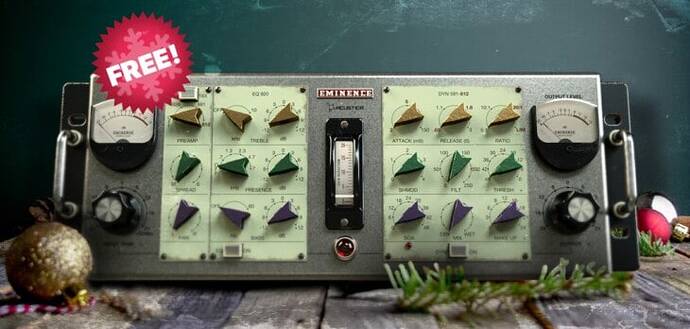 Acustica Audio releases Eminence, a FREE vintage channel strip plugin for digital audio workstations on Windows and macOS.
Last year, Acoustica Audio offered the Cerise channel strip plugin as a Christmas gift to all music producers. They are continuing the tradition with another lovely virtual channel strip that aims to bring authentic old-school console sounds to your DAW.
Eminence is based on three different pieces of studio hardware:
a rare '60s British 3-band EQ which was "used in probably one of the most famous and mythical worldwide broadcast studios," according to Acustica Audio;
a 'Frankenstein' compressor that combines 'Old school' solid-state dynamic processors;
and a preamp section that borrows its sound from all three aforementioned hardware units.
So, you're getting a classic virtual channel strip with a preamp section, a compressor, and a vintage 3-band equalizer. Each section comes with a set of fine-tuning controls. The compressor is the most versatile tool in the box, with plenty of knobs that will let you get the desired effect.
Here's a message from Acustica Audio:
"As per our tradition, every year for Xmas we like to surprise our faithful users with a gift for their loyalty and support. This year is no exception, so please give a warm welcome to Eminence, a 'vintage' tool to add "mojo" to your music and give you that old-school sound!"
If you're unfamiliar with Acustica Audio's plugin design MO, it's not a bad idea to read this article about their hardware sampling technology. In short, they're capturing dynamic impulse responses from studio hardware and using them to build audio plugins.
In other words, Acustica Audio doesn't use algorithms to emulate the behavior of analog hardware. Instead, they're doing something similar to convolution reverb technology, but on a more advanced scale.
That's just my layman's explanation of the concept. There's a lot more info available on their website if you find this sort of thing interesting.
Back to this year's freebie, Eminence is a classic example of Acustica Audio's work. If you want to add authentic vintage hardware vibes to your digital studio, be sure to give it a try.
One thing I didn't like about Acustica Audio plugins in the past was the GUI behavior. Their GUIs were often unresponsive and slightly buggy. Things have changed for the better lately, and I'm really impressed with the performance of their more recent releases.
To install Eminence on your computer, you'll need to register an Acustica Audio user account and install the Aquarius engine.
Download:
Eminence (VST/AU/AAX plugin format for Windows & macOS)
---
↑↑↑ 上方链接直接到达 ↑↑↑
资讯出处:Acustica Audio Offers FREE Eminence Vintage Channel Strip - Bedroom Producers Blog