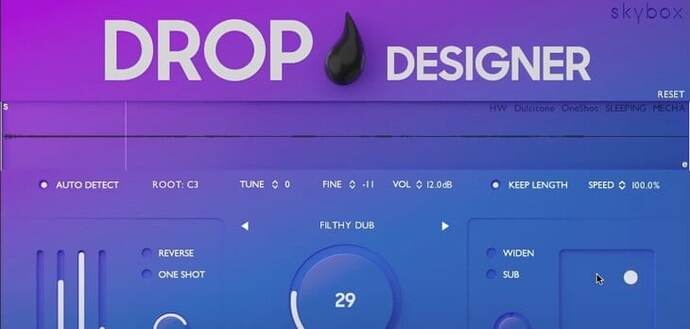 Skybox Audio offers Drop Designer, a FREE sample player instrument patch for Native Instruments Kontakt.
Drop Designer is a sample player that lets you get creative with samples quickly and easily.
Before going on, I should say that Drop Designer requires the full version of Kontakt, not the free Kontakt Player plugin.
Just drag and drop any sample right into the Drop Designer interface to get started. Drop Designer will detect the pitch and volume when you drop a sample. It then auto-maps the sample to the most useable range.
If you make almost any kind of Hip-Hop or electronic music, you'll be familiar with 808 basslines. The perfect 808 bassline is rarely more than a great sample and a couple of notes. Drop Designer gives you an easy way to add that to your track in a few seconds.
Obviously, the same applies to more than 808 samples. In terms of turning a sample into a playable instrument, Drop Designer uses Velocity Modeling to create a more expressive and natural feel.
Another cool feature in that area is One Shot, which allows you to choke one note with the next. Again, it's something that works well with 808 basslines. You can also truncate the sample by adjusting the start and end positions.
Before you get to the rather conspicuous big knob front and center, there are some more elements you can tweak; like tuning, volume, speed, and envelope settings. You can reverse samples and sync rhythmic loops to your host tempo.
Nothing so far is overly complicated, but I think that's the appeal of Drop Designer; it helps you do simple but effective things very quickly.
Beyond the essential functions, you have a few more options to shape the sound further. The first is V-Mod, a knob that introduces a snappier attack and enhances high-end. Next up, you have Widen, Sub, Color, and an interesting X/Y pad called Mutate to mangle the sound.
Finally, you have the large central knob that you can use to scroll through a vault of multi-effects presets. This knob is one of those features that might get you out of a jam when you're struggling creatively.
It comes with 50 one-shots and melodies from Hammers + Waves, with more to be added in the future.
If you have the full Kontakt player, give Drop Designer a try, it might make your creative process easier.
To get it, just join the Skybox Audio mailing list on the promo page linked below. For more, read our article about free Kontakt libraries.
Download:
Drop Designer (164 MB download size, ZIP archive, NKI format for NI Kontaktdrop )
---
↑↑↑ 上方链接直接到达 ↑↑↑
资讯出处:Drop Designer Is A Free Sample-Based Instrument For NI Kontakt - Bedroom Producers Blog