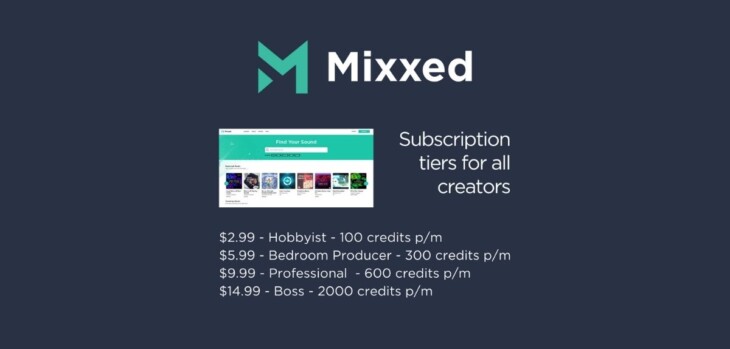 Mixxed is a sample subscription service that allows creators to buy or sell sounds. We are taking a closer look at Mixxed and offering a Mixxed Hobbyist subscription to ten lucky BPB readers!
A subscription to Mixxed comes with monthly credits that you can use to purchase individual sounds or full packs. The number of credits you receive each month depends on your chosen pricing plan.
There are four plans available:
Hobbyist – $2.99 per month – 100 credits
Bedroom Producer – $5.99 per month – 300 credits
Professional – $9.99 per month – 600 credits
Boss – $14.99 per month – 2000 credits
The thing that stands out to me straight away is that the pricing seems very reasonable. After scouting through the Mixxed library, I found some great packs at just 25 credits.
So, even on the entry-level subscription, you could get at least four sample packs for $2.99. Or up to 100 individual samples for $2.99 (100 credits).
In terms of sound and how useful they are, the quality of samples is high in what I've heard so far. Sometimes when we talk about samples, we focus more on the source and the process and less on the content.
For example, if I buy a Bösendorfer Concert Grand 290 Imperial sample pack, I'd want more than some basic triad Pop progressions, no matter how it was recorded.
Since I've been listening to some Cinematic samples on Mixxed, I should mention the awesome Inferno Cinematic SFX pack from Flame Sound again.
Mixxed offers a simple platform through its clean and clear website. But, that's not to say it has no interesting features. As well as buying samples, there are a couple of ways you can make money through Mixxed.
The first is contributing and selling your samples, earning 50% of revenue. You get a contributor page where you can link to your website and socials. It reminds me a bit of my Beatstars days.
The second way to make money is through the affiliate program. By sharing Mixxed through your own channels with provided banners and a unique link, you can offer newcomers a 10% discount. You will then receive a 10% commission from each sale of a referred subscriber.
"Mixxed is a sample subscription service that enables music creators from all walks of life to access and purchase individual sounds from full sample packs affordably. Mixxed runs as a subscription-based model, where our users pay a monthly subscription fee in exchange for sample credits. These sample credits can be used to buy individual samples or saved up and spent on entire sample packs.
Mixxed also provides a marketplace for independent sample contributors to sell their products, see monthly statistics, and get paid."
As a musician, you should never ignore any potential revenue streams.
Mixxed is powered by RouteNote, Europe's largest independent digital music distributor. It seems easy to use, reasonably cheap, with good quality content. If you're into samples either as a buyer or seller, you should check it out.
More info:
Mixxed (starting at $2.99 per month)
The Giveaway
Mixxed offers a Mixxed Hobbyist subscription to ten lucky BPB readers!
To enter the giveaway, simply leave a comment below. The winners will be announced on Monday, January 31st.
Good luck, and thanks for reading BPB!
---
↑↑↑ 上方链接直接到达 ↑↑↑
资讯出处:Mixxed Sample Subscription Service (10 FREE Subscriptions Inside!) - Bedroom Producers Blog