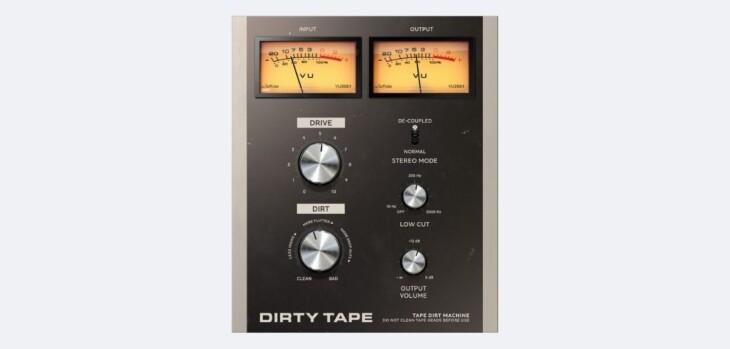 Softube offers the Dirty Tape: Special Edition saturation VST plugin as a FREE download until January 31st, 2022. A free iLok user account is required for activation purposes.
Dirty Tape: Special Edition is a tape saturation effect based on Softube's more pricey Tape, Tape Echoes, and Harmonics offerings. It is a fantastic add-on to Softube's hugely popular Saturation Knob plugin.
Softube latest audio effect specializes in tape saturation. It's a simple concept that you're probably already familiar with – emulating the saturation effect of analog tape machines to add warmth and "dirt" to digital audio.
Dirty Tape: Special Edition makes this technique super easy to do. You can adjust the Drive amount, Dirt character, Stereo Mode, and Low Cut filter. The plugin also features a couple of VU meters and an Output Volume control to simplify gain staging.
The Dirt knob is perhaps the most interesting section of the plugin. It lets the user adjust the character of the tape saturation, ranging from Clean to Bad. As you rotate the dial to the right, the algorithm applies more saturation, flutter, and volume dropouts to the signal.
If, however, you prefer your tape saturation subtle, keep the Dirt on the minimum setting and enjoy added harmonics without analog-style signal degradation.
Tape saturation does wonders on drums and bass sounds, as well as vocals and virtual synthesizers. I love using it sparingly across the entire mix for a cumulative effect that doesn't go "over the top."
You can hear how Dirty Tape affects drums in the demo video below.
Here's how Softube describes the Dirty Tape plugin:
"From the Swedish distortion masters and makers of the acclaimed Tape, Tape Echoes, Harmonics, and Saturation Knob plugins comes Dirty Tape. The tape effect you need when you want to get down and dirty and keep the sound quality savage. Dirty Tape gives you warm, analog vibes from the moment you load it on a track. Capable of fiercely gritty distortion and saturation, Dirty Tape can also add subtle texture and movement to a sound. Like a photo filter for your tracks, Dirty Tape will take you from static and dull to lively and colorful in a snap."
I used Softube's flagship Tape saturation plugin on multiple mixes and, although I like how it sounds, I tend to find it too subtle for my taste. On the other hand, Dirty Tape is a more in-your-face type of saturation effect, with heavier saturation and an intentionally lo-fi sound (if you crank the Dirt knob).
You can download Dirty Tape: Special Edition for free via Softube. The exclusive free download offer expires on January 31st.
Dirty Tape: Special Edition is available in VST2, VST3, AU, and AAX plugins for compatible digital audio workstations on Windows and macOS. Only 64-bit plugin hosts are supported.
Please note that an iLok user account is required to activate the plugin.
For more saturation options, try our free BPB Saturator plugin.
Download:
Dirty Tape: Special Edition (requires iLok user account, FREE until January 31st, 2022)
---
↑↑↑ 上方链接直接到达 ↑↑↑
资讯出处:Softube Dirty Tape: Special Edition Is FREE Until January 31st - Bedroom Producers Blog