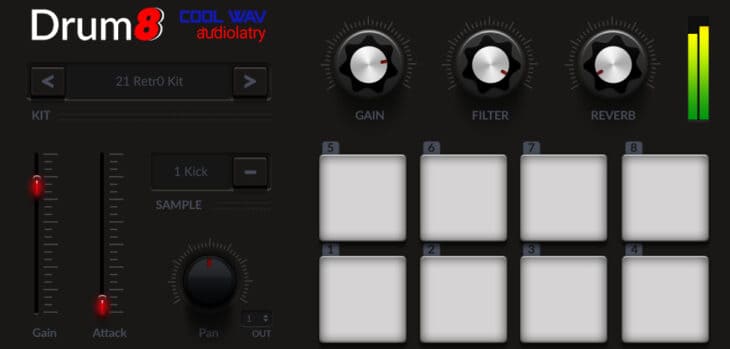 Audiolatry has released a new virtual drum plugin called Drum8, and it's absolutely FREE! Simply head to their website and download it for your DAW (only your email address is required).
Drum8 has 40 different kits, with eight samples per drum kit for a total of 320 sounds. Each sample from 1-8 corresponds to a pad on the UI and a note from C1 to G1 on the MIDI editor for convenience.
It's worth noting that every sample in the 40 drum kits offers a unique timbre. All of these samples are 100% original and royalty-free.
Drum8 has a pretty simple UI that's straightforward to use and works well. There are settings on the interface for both individual pads and the plugin instance in general. The general settings include a low-pass filter, reverb, and gain. The controls available for the individual pads are gain, pan, attack, and stereo channel output.
The plugin takes just under 300 MBs of disk space, and the download is in zip format at 211 MBs. It is available for both Windows and macOS in the VST/VST3/AU formats. However, the macOS version does not yet support versions Catalina and above (El Capitan to Mojave are supported). AAX is also not supported yet.
Audiolatry created Drum8 in collaboration with COOL WAV, which is known for releasing some great sound packs for free.
COOL WAV contributed their fantastic drum sound design and the individual drum samples. On the other hand, Audiolatry handled the software engineering to produce a polished result that's perfect for EDM, LoFi, Pop, Hip-hop, Trap, and more.
You can check out some of the drum kits in action here:
If you like Drum8, you should check out Audiolatry's range of FREE virtual instruments – Funk Bass, Electric Piano, Retro Vibes, and many more. Overall, Drum8 is another excellent freebie that's worth checking out for its sheer simplicity and surprisingly detailed quality of sound.
If you want more instruments like this one, check out our free BPB Cassette Drums collection.
Download:
---
↑↑↑ 上方链接直接到达 ↑↑↑
资讯出处:Drum8 Is A FREE Drum Machine Plugin By Audiolatry - Bedroom Producers Blog