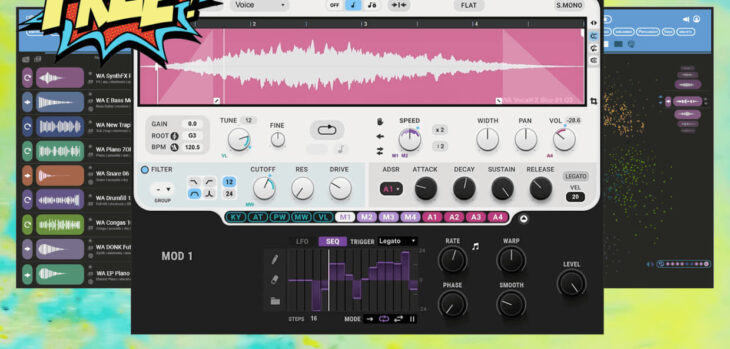 ZamplerSounds offers the Waves CR8 Sample Pack, a free 3.8 GB collection of sounds for the new CR8 sampler plugin.
Waves have released the CR8 Creative Sampler (currently available for $9.99) with the built-in AI-powered Cosmos sample finder.
CR8 looks to be a powerful tool that lets you put advanced features to work quickly with an intuitive interface. It ships with 800 sampler presets and over 2500 free samples in Cosmos.
Read more on Cosmos in our recent article; like Tomislav, I like to keep my sample collection as tidy as possible; I like to, that doesn't mean I manage it.
The Zampler CR8 Sample Pack takes it much further with an additional 3.8 GB of sample content. Included samples are a mix of one-shots, loops, drums, instruments, vocals, and more.
Amongst other sources, the CR8 Sample Pack features drum kits from the Vermona DRM1 mkIII, the Elektron Analog Rytm, and Modula (the modular system of BEAT magazine).
Vermona's DRM1, in any version, is a drum machine that I've wanted to try out for a while. It's a really simple 8-voice unit without a sequencer, and it's built like a tank.
There are ten Korg Radius Drum Kits, which comes with a bit of nostalgia for me. I owned a Korg Radius just after my student days, and it sat on top of a very old and temperamental upright piano (in a room that barely had any walking space left).
I don't think it's one of my favorite synths, but I do wish I kept a hold of it.
The pack also includes 110 Drum Loops from the Dave Smith Tempest. The Tempest (discontinued) came from two of the most ambitious minds in this field, Dave Smith and Roger Linn. There's also content from more modern gear, like 26 patches from the deceivingly expensive Teenage Engineering OP-1.
The sampled instruments range from synths to orchestral and ethnic instruments from the far east. There are nineteen ethnic synth/instrument hybrids and thirteen ethnic basses.
I'm just picking out a few highlights; the complete list has a wide range of sounds. It comes with 1.7 GB of vocal content from 21 royalty-free recording sessions.
All of the samples come in WAV and AIFF formats, which means you can load them into any sampler VST plugin, not just CR8.
Download:
More:
---
↑↑↑ 上方链接直接到达 ↑↑↑
资讯出处:ZamplerSounds Release FREE Waves CR8 Sample Pack - Bedroom Producers Blog