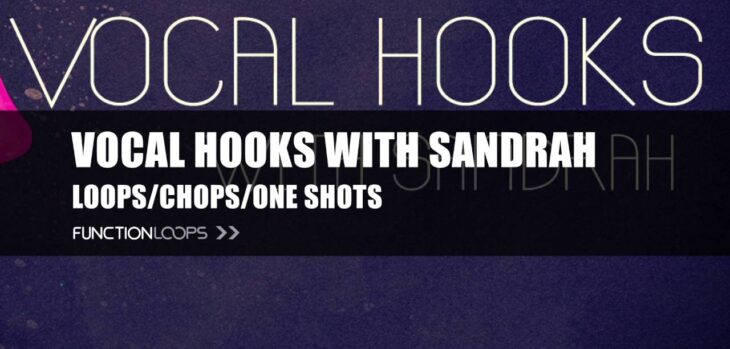 Function Loops offers the Vocal Hooks With Sandrah ($19.90 value) sound library as a FREE download for a limited time.
Vocal Hooks With Sandrah is a collection of royalty-free acapella vocal loops. The loops were recorded at 24-bit WAV quality and are ready to drop into your production.
Vocal Hooks With Sandrah is usually $19.90, but it's FREE right now for a limited time, so get it while it's there.
The collection contains 150 files, separated into 120 loops and 30 Vocal Chops (FX loops). Of the 120 loops, 60 are dry acapellas, and 60 are wet.
The pack is all about recreating the Soul Diva sound. The Soul Diva sound is many things wrapped up in one voice. It's big but controlled, smooth, but raspy when it needs to be.
That kind of voice is very adaptable to different musical genres, including Soul, Garage, House, and Acoustic. If I had to guess, I'd assume that most people working on a Soul recording project won't be relying on a sample pack for vocals. In some cases, they might, but it's more likely they would want vocalists and live musicians in the studio for authenticity/originality.
For me, the value in a pack like this is in club hits. Whether it's Garage, House, or anything else, sample packs like this are best-suited to tracks that get people moving.
The good thing about using vocal loops for those kinds of tracks is that you can chop them up like you might any other sample. Chopping samples for choppy/glitchy vocals adds originality to avoid sounding like everyone else who has the same pack.
I must sound like a broken record when I talk about sample packs, but I'll repeat it; if it's free, take it whether you need it or not. Put it in a folder, forget about it, and when you do need it, you'll have it.
For any Mob movie buffs, especially fans of Donnie Brasco, I know the words forget about it mean many things. I assure you that I just mean don't think about it, and not do it or else! Although, if you could read it with a stereotype Mob movie accent, that would be perfect.
If it's not vocals you need, don't worry, there are lots of free packs around at the moment: CAICOS from Slate Digital, HBH from WA Production, and Cinematic SFX from Flame Sound.
FunctionLoops are currently running a 30% off February Sale with the promo code FEB30.
Download:
Vocal Hooks With Sandrah (FREE for a limited time)
More:
---
↑↑↑ 上方链接直接到达 ↑↑↑
资讯出处:Function Loops Releases FREE Vocal Hooks With Sandrah - Bedroom Producers Blog