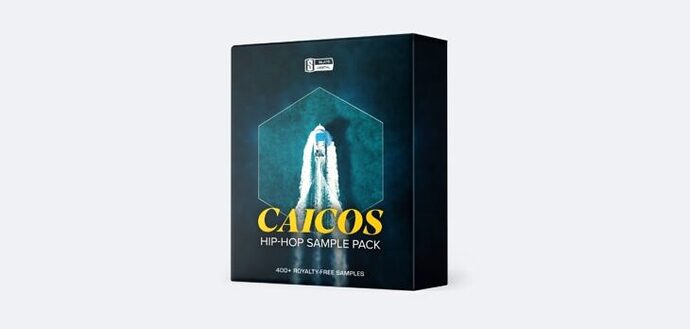 Slate Digital offers CAICOS, a royalty-free Hip-Hop sample pack in WAV format. CAICOS is available for FREE download until March 2nd, 2022.
Slate Digital releases free sample packs multiple times per year (typically), and I can never fault the quality.
CAICOS is a Hip-Hop sample pack, which, as you might guess from the title and imagery, has an island feel. It provides a nice mix of hard-hitting drums and light/airy Tonal Loops.
The pack has over 400 sounds in total, which are divided as follows.
Drum Loops – 120
Drum One-Shots – 169
808 Samples – 30
Tonal Loops – 91
All files come in the WAV format and are compatible with all major DAWs.
"From silky smooth hi-hats to instantly iconic 808s, the new CAICOS sample pack has everything you need to make the island-inspired banger of your dreams. In addition to a host of carefully crafted one-shots, the pack is home to a swath of crisp, tight drum loops and elegant melodies that cover a huge sonic range."
We see quite a few free sample packs, and when there's a time limit, I always say grab it before it's gone. Even if it's not one you see any immediate use for, like a Hungarian Folk Music pack when you're an EDM producer.
Although, if Slate Digital released a Béla Bartók pack, I'd download it straight away. The point is you never know when something might be useful.
Slate Digital gave away the SEISMIC 2 pack earlier this year, so I hope you all got that one.
For me, as good as the Drum Loops and 808 samples are, it's the Tonal Loops that are most interesting. Only because we tend to have plenty of options for drums, so I like anything tonal or textural that adds a new element.
The thing I like most about the pack is that it covers a few emotions. Although light and breezy, the Tonal Loops offer some darker content, too. Yeah, it has an island feel, but it's modern and cool, not some cheesy, tropical vibe.
In my opinion, Slate Digital gives us some of the best free sample packs available, and long may it continue.
To get CAICOS for free, just create an account with Slate Digital if you don't already have one.
If you're feeling like a real sample hoarder, grab Holy Bass House from WA Productions for free, too.
Download:
CAICOS (FREE until March 2nd, 2022)
More:
---
↑↑↑ 上方链接直接到达 ↑↑↑
资讯出处:Slate Digital Releases FREE Caicos Hip-Hop Sample Pack - Bedroom Producers Blog