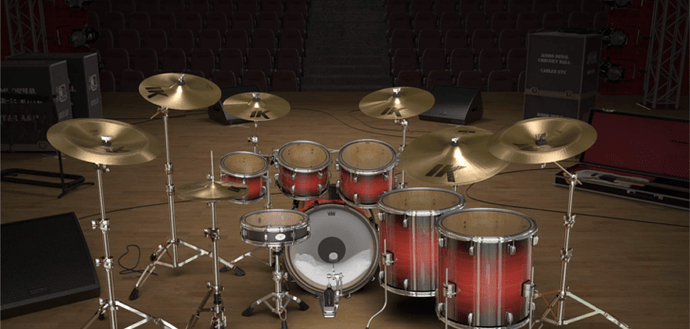 IK Multimedia releases MODO Drum 1.5 and the MODO Drum Custom Shop version with one free drum kit.
MODO Drum 1.5 marks the introduction of two new expandable versions; MODO Drum CS and SE.
The full version comes with thirteen drum kits (older version 1.0 has ten kits), SE provides five, and the free CS version has just one.
We wouldn't be BPB if we didn't highlight the free MODO Drum CS.
The Custom Shop version features the standard Studio kit and the option to purchase/add more kits at any time (€49.99 each). MODO Drum CS might be a teaser designed to tempt you into upgrading or buying more kits, but it's also a handy freebie on its own.
The Studio kit sounds great and has been one of a few industry standards for many years. But the best thing about the free version is that you get the complete MODO Drum engine. Any tweaking you can do in MODO Drum 1.5, you can also do in Custom Shop.
MODO Drum goes far deeper than the typical drum sample library. IK Multimedia's modal synthesis technology and the optimized sound engine take a macro approach to create an authentic drum sound. Rather than focus purely on the final sound, they have considered, in great detail, every parameter that attributes something to the final sound.
You have complete control over dimensions, materials, skin, sticks, playing style, etc. The sound you get results from those choices, how they interact with each other, and the room acoustics. It brings more of a human element than you'd get from the average drum software.
The common opinion is that it's also heavier on the CPU than the average drum software. Depending on your system, some users may notice this more than others.
Recreating the relationship between all moving parts is something IK Multimedia does well. It's a quality they also highlight in their Tascam Tape Collection.
MODO Drum comes with a Grooves Manager with over 1,400 grooves in various styles.
For anyone who already owns MODO Drum 1.0 (with ten kits), you might be disappointed to see there is no free upgrade to 1.5.
MODO Drum 1.5 is available for €299.99 to new customers with a crossgrade price of €79.99 for existing MODO Drum owners.
I guess it depends on how you look at it; individual kits are €49.99 each, so you are saving money on three new kits in that sense. However, I think when people buy a full version of anything, they often expect it to remain a full version at no extra cost.
I defend IK Multimedia occasionally because they get some criticism I feel is unfair. No developer gets every detail right, but for me, the quality of products, the sales, and the freebies outweigh any complaints by a long, long way.
MODO Drum CS is now also listed in our free drum plugins article.
Download:
More:
---
↑↑↑ 上方链接直接到达 ↑↑↑
资讯出处:IK Multimedia Releases FREE MODO Drum Custom Shop - Bedroom Producers Blog