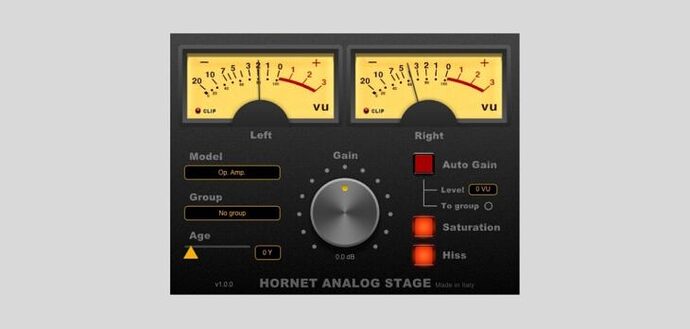 HoRNet offers the AnalogStage (€17.99 value) analog mixing console emulation plugin as a free download until March 7th, 2022.
HoRNet AnalogStage re-creates an analog mixing console's non-linearities and other sound characteristics. It aims to improve the sound of digitally recorded and mixed projects.
The developer suggests using HoRNet AnalogStage on every channel and bus in your DAW. The goal is to achieve a subtle, cumulative saturation effect that sounds similar to what you'd get out of an analog mixing desk.
HoRNet AnalogStage lets you choose between three different types of analog saturation: operational amplifier, transistor, and tube. Each mode offers a different saturation flavor, ranging from a modern "clean" sound (operational amplifier) to a more distorted vintage tone (transistor and tube).
Another handy feature is grouping multiple plugin instances in your project. This makes it easy to apply the changes to several channels across your mix. It's possible to create up to eight groups per project. So, you can treat your vocals with a tube-saturated mixing console and your guitars with a transistor-based console.
HoRNet AnalogStage also features a stereo VU meter calibrated to -18dBFS. It makes gain staging easier and helps you "visualize" the loudness of each channel. The developer also included an auto-gain feature for users who want to speed up the mixing workflow.
If you're looking for a more "in your face" vintage effect, experiment with the Age slider. It simulates the deterioration of analog gear, such as the drying condensers, which affects the saturation character and the frequency response.
Here's how the developer describes AnalogStage:
"HoRNet AnalogStage is a console emulation plugin that re-creates those sound characteristics usually associated with analog gear (saturation, hiss, non-linear frequency response, etc.) and can be used to bring to your mix some analog console flavor if used on every channel or bus."
The plugin was recently updated to v1.20, which offers Apple M1 chip support and fixes several performance bugs. Unfortunately, it also removes 32-bit host support.
HoRNet AnalogStage is free for a limited time only. Use the coupon code ASFREE2022 at checkout to get the plugin for free. The offer expires on March 7th, 2022.
The software is available in VST2, VST3, AU, and AAX plugin formats on Windows and macOS.
Download:
HoRNet AnalogStage (€17.99 value, FREE with coupon code ASFREE2022 until March 7th, 2022)
More:
---
↑↑↑ 上方链接直接到达 ↑↑↑
资讯出处:HoRNet AnalogStage Plugin Is FREE Until March 7th! - Bedroom Producers Blog