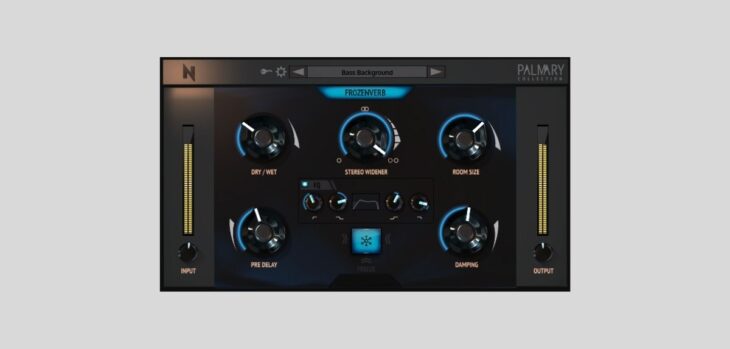 Audio Plugin Deals offers the FrozenVerb reverb plugin by NoiseAsh for just $19 (retail $129). That's a massive 85% discount, and this offer is valid till March 15th, 2022.
FrozenVerb is a powerful reverb plugin with a versatile DSP engine capable of recreating several different types of reverb. The presets and straightforward controls offer great results quickly.
The UI features Damping, Room Size, Wet/Dry, Pre Delay, Stereo Widener, and a four-band solid-state equalizer. The waveform in the center represents the nature of the output, while at the left and right sides are the input and output levels, respectively.
The available controls are standard in delay plugins, but the Freeze button sets FrozenVerb apart. The Freeze button toggles an infinite reverb based on the output reverb when you engage the switch. This effect is similar to what you see in many guitar delay pedals. The Freeze button is programmable; you can automate it to activate it at specific points in your project.
"FrozenVerb is a versatile and hyper stereo algorithmic reverb unit for getting very fast, powerful, and high-quality reverb sound. It's designed for delivering quick results with easy access to mission-critical controls. The resulting tone is alive, gentle, natural, and convincingly real."
Here's an official demo of the plugin by NoiseAsh:
FrozenVerb's interface looks sleek and intuitive, with a relatively small number of controls and many different presets. The neon accents over the all-black body offer clarity with a modern look. The UI is also resizable.
FrozenVerb is compatible with Windows and macOS in the VST3, AU, and AAX formats. The plugin is well-optimized and quite CPU-friendly and will take up about 300 MB of space once installed.
Overall, FrozenVerb is a flexible reverb that sounds good and has useful features. It's versatile enough to be used across multiple genres and instruments, but it's been designed to create huge reverbs with infinite tails for a more lush ambiance.
You can also check out the NEED preamp and EQ collection by NoiseAsh. They provide a complete collection of old-school British consoles at an affordable price.
And if you need a retro reverb effect, check out our free BPB Dirty Spring plugin.
More info:
FrozenVerb (85% OFF @ Audio Plugin Deals)
---
↑↑↑ 上方链接直接到达 ↑↑↑
资讯出处:Get 85% OFF FrozenVerb By NoiseAsh @ Audio Plugin Deals - Bedroom Producers Blog