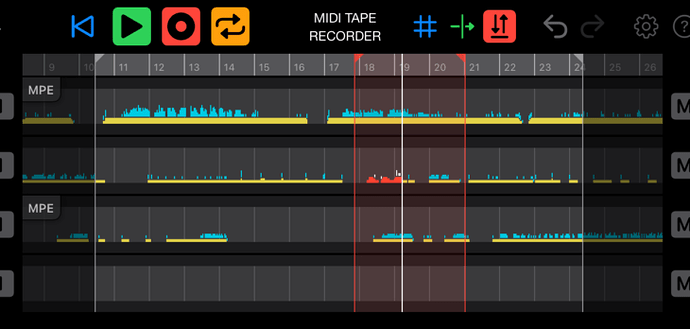 Uwyn offers MIDI Tape Recorder, a different (and FREE) approach to MIDI recording for macOS and iOS.
MIDI Tape Recorder (Free and open-source) comes from developer Geert Bevin, a driving force behind some awesome Moog apps like Model 15, Model D, and Animoog Z.
Geert also has an assortment of musical covers and originals on his YouTube channel if you want to check that out. Many of those covers feature the unusual Eigenharp Alpha, which is something I haven't seen very often.
The point of MIDI Tape Recorder is to bring the simple tape recorder format to the MIDI world, clearly, but why? I'm sure we've all recorded MIDI that sounded incredible during the performance but a bit wonky on playback.
MIDI is amazing; it lets us work quickly with almost no editing limitations. But, to allow those editing capabilities, everything has to be in its right place, or at least the right place according to your DAW. When your DAW changes the timing of MIDI messages, it takes away the human aspect of performance, which is where the emotion and expression are. (Other times, it just sounds straight-up wonky).
If you are holding a chord on the first beat of each bar, you won't have any problems. If you're playing a two against three rhythm, for example, you might have some playback issues.
MIDI Tape Recorder captures your performance just like your DAW captures audio. It records what you put in exactly as you play it, from the notes to the dynamics and expression. You won't lose any subtle nuance in your performance no matter what you play.
The clever plugin offers four independent tracks for recording MIDI. Each track has per track record enable, input monitoring, and mute. It doesn't provide MIDI note editing, quantizing, or anything else that you wouldn't expect to do with audio.
You'll get a real-time display showing an overview of recorded MIDI messages as you record.
In short, MIDI Tape Recorder is a simple (but smart) MIDI recorder with MPE support that offers audio-like precision.
Here are some of the key features:
Undo/Redo per track or clear all
Overdub recording
MIDI import/export per track or project
Snap to beat
Detection of MPE configuration message reception for each track
Automated storage/recall of all recordings inside AUv3 host
MIDI Tape Recorder requires an AUv3 host to function and is available for macOS and iOS.
Download:
MIDI Tape Recorder (AUv3 plugin format for macOS & iOS)
More:
---
↑↑↑ 上方链接直接到达 ↑↑↑
资讯出处:Uwyn Releases FREE MIDI Tape Recorder For macOS & iOS - Bedroom Producers Blog