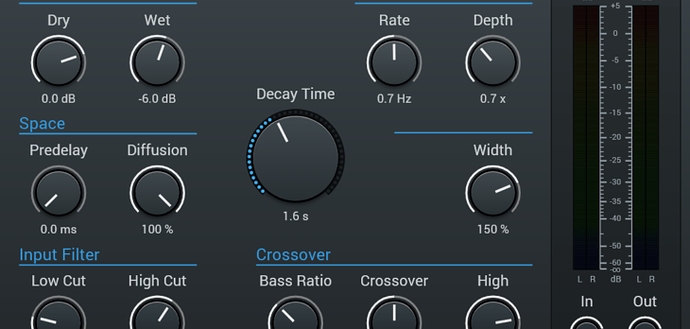 Stone Voices releases DReverb, a freeware algorithmic reverb effect in VST2, VST3, and AU plugin formats for digital audio workstations on Windows and macOS.
DReverb by is an algorithmic reverb plugin with extremely long decay times, a highly flexible reverb engine, and efficient performance.
The plugin delivers excellent sound quality (64-bit sound processing with double precision), low CPU usage, and a wide range of decay times for versatility (0.1 – 100 seconds). There are 32 factory presets, and you can use presets and banks together.
The controls available on the UI fall under five sections, these are:
Level – Dry and Wet
Space – Pre-Delay and Diffusion
Input Filter – Low Cut and High Cut
Excursion – Rate, Depth, and Width
Crossover – Bass Ratio, Crossover, and High
Along with the above controls, there is a large knob for Decay Time in the center of the interface. Input and Output level meters are also included for convenient monitoring, along with knobs to control input and output levels (partitioned and organized on the right side of the UI).
Everything on the interface uses vector-based visuals, ensuring crisp display regardless of resolution. The UI feels intuitive and really easy to use, and with its efficient CPU usage, everything feels snappy and instantaneous as you're making changes.
Also, the interface is freely resizable, which is a much-needed feature in this age of high-resolution screens.
Sound designers and mixing engineers looking for a flexible reverb unit will appreciate DReverb's somewhat unconventional feature set. The long decay time is one of the plugin's headline features, while the clean GUI and low CPU hit make it even more enjoyable.
DReverb is available as a VST2 and VST3 plugin for Windows 7 and above (4.65 MB download), while for macOS (10.11 or higher), VST2, VST3, and AU are supported (2.02 MB download).
I tested several of the presets, and they're all great starting points for a wide range of tracks. You could use them on any instrument. The reverbs include everything from simple hall-style ones to lush, spacious reverbs and some unique ones like 'Entrance In A Cave.'
If you like DReverb, Stone Voices has created many other freebies worth checking out — Vocal Pitch Shifter, Brandulator, Chorus GAS, and Moss Equalizer. Stone Voices also offers an interesting app called Sound Art, which converts images into sounds and sounds into images.
DReverb comes without an installer, so you'll need to manually place the plugin files in the corresponding folder on your hard drive.
Download:
DReverb (4.65 MB download size, ZIP archive, 64-bit VST2/VST plugin format for Windows & macOS)
More:
---
↑↑↑ 上方链接直接到达 ↑↑↑
资讯出处:Stone Voices Release FREE DReverb Algorithmic Reverb Plugin - Bedroom Producers Blog