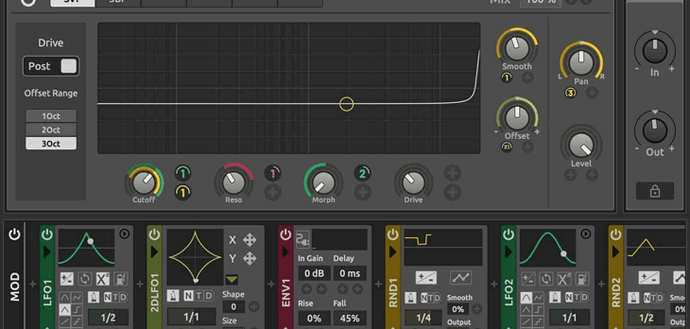 HY-Plugins offers HY-Filer4 FREE, a free version of the new HY-Filter4 semi-modular effect plugin.
With the release of HY-Filter4, HY-Plugins has put together a streamlined version that you can download for free.
HY-Filter4 FREE offers a reasonable selection of features from the paid version, which might tempt you into upgrading. Although, it's a handy plugin in its own right.
You get a two filter engine (SVF and 3BP) and five modulation types with the free version.
In comparison, the full version offers a Multi-Engine Filter (SVF, 3BP, Dual, Xover, Formant, and Resonator) and ten modulator types. The full version also provides an FC Chain with 38 built-in effect units and a Grid Sequencer (CTRL SEQ) that controls effect and modulator units.
Should you fancy the full version, it costs $55, or it's free to owners of HY-Filter2 or HY-Filter3.
Back to the freebie! (if only that were like Back To The Future, I could go back and get freebies that I missed).
The upper section of the GUI features the filter engine, which has controls for Cutoff, Reso, Morph, and Drive. You can adjust the Cutoff and Resonance via the knobs or by dragging the point on the graph.
The Morph knob morphs the filter type between LP-BP-HP. As well as setting the Drive amount, you can set it to Pre or Post with a switch to the left-hand side. Under the Pre/Post switch, you can adjust the Offset Range, too.
To the right-hand side of the GUI, you'll find Smooth, Offset, Pan, and Level knobs. Further right is a small Master section.
Moving down to the Mod section, the available types are LFO, 2DLFO, RND, Env Follower, and XY Control.
To assign modulation to a parameter, just drag it to the crossed circle next to the chosen parameter. Alternatively, right-click a crossed circle and select a modulation type.
I like the modular or semi-modular approach to plugins when it's done well, and HY-Filter4 FREE is very easy to use.
Well worth checking out as a free effect unit on its own or as a partial demo before buying the full version.
I mentioned forgetting freebies above, and that reminds me I haven't grabbed Kilohearts Slice EQ for FREE (with any purchase from ADSR Sounds through March 2022) yet.
HY-Filter4 is available in VST2, VST3, and AU plugin formats for digital audio workstations on Windows and macOS. Only 64-bit plugin hosts are supported.
Download:
HY-Filter4 ($38 sale price, $55 standard price, freeware version available)
More:
---
↑↑↑ 上方链接直接到达 ↑↑↑
资讯出处:HY-Plugins Releases HY-Filter4 & HY-Filter4 Free - Bedroom Producers Blog