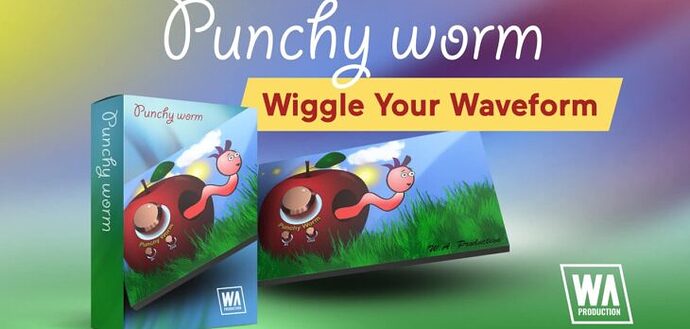 W.A. Production offers all Bedroom Producers Blog readers an exclusive $1.99 deal on the Punchy Worm ($19.90 value) saturation and transient shaping plugin. Use the coupon code BPBPUNCHY to get the discount (the offer expires on April 15th).
Typically, when you watch an overview video for a new plugin, you'll hear statements that instantly ring true and some that you want to question further.
I can safely say that I've never heard a truer statement from a developer than this: "It's the only one-knob punch powerhouse featuring a dancing worm."
I really can't argue with that!
It's fair to say that Punchy Worm is a bit of fun, but the fun doesn't mean it's just a novelty. W.A. Productions has created something fun and easy to use that genuinely impacts your music.
Let's start with the fun stuff; the GUI shows an apple housing a hypnotic dancing worm. The worm will enthusiastically headbang to the beat with the plugin active and sound playing.
You have In/Out levels, but it's essentially a one-knob plugin. The main knob adds transient-shaping punch when turned to the left or saturation and upper harmonics when turned to the right.
As you make adjustments, Punchy Worm applies varying levels of upward/downward compression.
There are different ways to look at the one-knob approach. It offers far less micro-management style control and forces you to trust your ears. But, that's not necessarily a bad thing, as access to a million parameters is often the fastest way to ruin your sound.
A plugin like Punchy Worm stops us from overthinking and helps us trust what we hear more than what we see.
Although, if you find yourself staring at the dancing worm for hours, get out of the room, and give your ears a break before committing to anything.
The effect can be pretty subtle or relatively aggressive. If you need a simple way to add some extra impact to a kick or anything else, Punchy Worm does that easily. It's also a nice way to add some grit and dirt to any sound that you think is too clean. If you want to be more aggressive, you can push the input harder to magnify the effect.
The leaf atop the apple is where you toggle Oversampling settings (up to 4X), and clicking the logo will bypass the plugin.
Funnily enough, one of my first ever posts for BPB also featured an apple, that time in the title, not the GUI: Big Apple from HASound.
Punchy Worm is available for $19.90, but BPB readers can grab it for $1 using the exclusive promo code BPBPUNCHY (promo ends April 15th). In the words of Bixby Snyder from the original Robocop movie, I'd buy that for a dollar! If you're not into 80s films, feel free to ignore me.
Either way, big thanks to W.A. Production for Punchy Worm and a fantastic BPB exclusive deal.
IMPORTANT: Please remove everything else from your shopping cart (including the free Future House Mega Pack 2) before applying the coupon code.
Get the deal: Punchy Worm (available for $1.99 with coupon code BPBPUNCHY until April 15th, 2022)
---
↑↑↑ 上方链接直接到达 ↑↑↑
资讯出处:BPB Deal: Get Punchy Worm For $1.99 Until April 15th! 🐛 - Bedroom Producers Blog