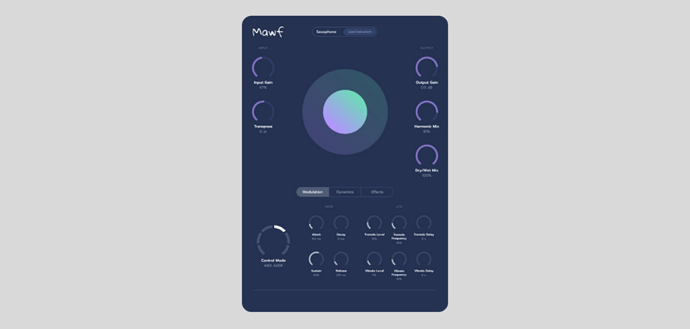 ByteDance, the company behind TikTok, has announced a FREE machine-learning synthesizer plugin called Mawf. The software is currently in public beta and only available on macOS.
The same company that brought you Tik Tok is taking its first steps into music production with the announcement of a new, one-of-a-kind plugin designed to emulate real instruments.
It's no secret that machine learning and artificial intelligence are the future. ByteDance utilized this rapidly advancing area technology to create Mawf, an all-in-one machine learning synth.
Mawf works in real-time to read incoming signals and generate a realistic instrument sound.
In its beta version, Mawf includes three instruments modeled after a variety of horns and woodwinds.
The synth features a handful of modifiers such as attack, sustain, decay, and release. It also has reverb, chorus, and a compressor- plenty of options for those looking to customize their sound!
Users can run a variety of other input signals from sources such as midi, a hardware synth, or even raw vocals. The plugin will then run the signal through its proprietary machine learning model and output a sound with authentic timbre and tonality.
Mawf achieves a realistic tone by using its machine learning model to analyze professional musicians playing real instruments.
It then inputs the intricacies of real humans playing into its algorithm and produces a realistic emulation.
The result is a surprisingly accurate representation of real instrument sounds. On their website, developers remind users that Mawf is designed after real musical instruments and, as such, can "be pushed beyond its original timbre"- this means that the sound will naturally vary in texture as it becomes louder.
Unlike some virtual instruments that rely on complex equations to model the desired sound, Mawf's machine learning model only requires samples of a single instrument to create an accurate representation.
Mawf is currently in beta testing and, as a result, is limited to the first 500 sign-ups, so get on it fast! On the website, the developers express their desire for user feedback- this is an excellent opportunity to take part in the development of revolutionary new technology in the music world!
Getting this plugin is simple. Just go to their website, input your name/email, and they'll send you a download link!
Mawf is currently only available for users of macOS X and is compatible with the following DAWs: Ableton Live, Logic Pro, Reaper, BitWig, and Cubase.
Download:
Mawf (public beta, macOS only)
More:
---
↑↑↑ 上方链接直接到达 ↑↑↑
资讯出处:Mawf Is A FREE Synthesizer From The Creators Of TikTok - Bedroom Producers Blog