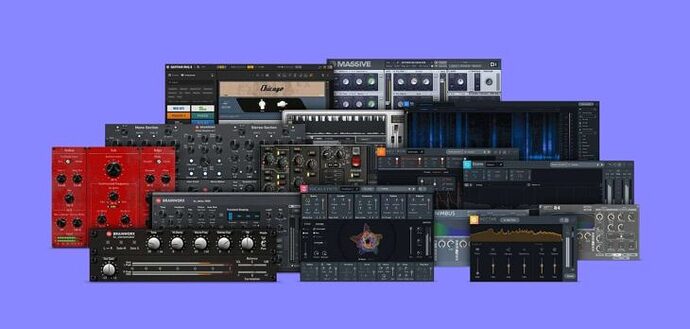 Plugin Boutique offers a massive 98% discount on the Soundwide Intro Bundle.
Soundwide Intro Bundle features fifteen products from iZotope, Native Instruments, and Brainworx with a combined value of £1,999.
Don't be put off by the mammoth price tag because right now, we can get it all for just £44.95, which seems insane (not that I'm complaining).
We are used to some pretty awesome deals and freebies from Plugin Boutique, but this is one of those that makes you think you read the info wrong. I know list prices during promotions can sometimes be misleading (unintentionally, of course…), but there's no universe where this bundle isn't an absolute steal at £44.95.
I think there's more chance of Celine Dion releasing a Gangsta Rap album than finding it cheaper.
Here's a complete list of the included products.
iZotope:
RX Elements
Ozone Elements
Neutron Elements
Nectar Elements
Trash 2
VocalSynth 2
R4 Exponential Audio
Nimbus Exponential Audio
Native Instruments:
Brainworx:
bx_digital V3
bx_subsynth
bx_console N
bx_stereomaker
bx_delay 2500
Those products make a pretty comprehensive collection, covering a lot of different tasks and use cases.
As far as the iZotope stuff goes, I already use RX, and I think it's great. I have VocalSynth 2 also, and I find it a bit hit and miss, but if you spend time with it, you can get some very nice sounds. I've missed Exponential Audio plugins during previous deals, so I'm glad to see them listed.
I'm not a Kontakt fan, usually limiting my interest in Native Instruments, but I used to use Massive daily and loved it. I know many people who still depend on Massive every time they make a track, so it's a good one to get if you don't have it.
The Brainworx stuff is something else I've missed out on in the past, so that definitely gets my interest.
There's far too much in this bundle to discuss individually, but it's fair to say it's a powerhouse collection at this price.
I know money is generally tight when you are a gear/plugin addict, but I'd grab this one if you've got anything in your plugin fund. If you are newer to producing/mixing and don't have a vast arsenal of tools yet, this is a superb foundation to build on.
As a bonus, purchasing the bundle will get you a free copy of Duo from Antares.
More info:
Soundwide Intro Bundle (98% OFF)
---
↑↑↑ 上方链接直接到达 ↑↑↑
资讯出处:Get 98% OFF Soundwide Intro Bundle Worth £1,999 - Bedroom Producers Blog