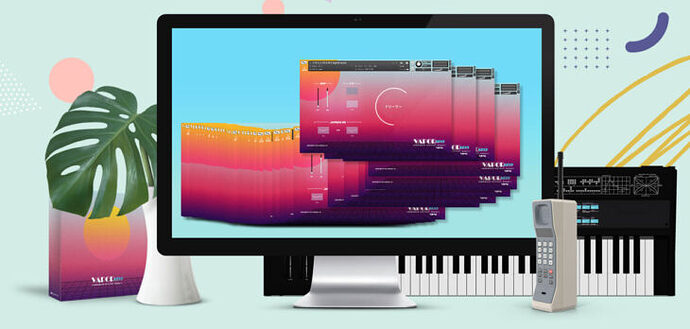 Karanyi Sounds offer all BPB readers an exclusive 70% OFF discount on the Vapor Keys ($49) sound library for Native Instruments Kontakt.
Vapor Keys is a collection of custom electric pianos mixed with various FM, Wavetable, and Algorithmic synth sounds. It's basically the retro sounds of the 90s, inspired by classic movies.
If I'm honest, whether it's the 80s or 90s, anything retro that makes me think of cheesy, against the odds, movie montages or cool, driving empty city streets at night vibes gets me hooked. Ultimately, whichever it is, I quickly realize I'm daydreaming and need to get back to work, but for a minute, I'm hooked!
Before telling you how fantastic the deal is, I should say that Vapor Keys requires the full version of Kontakt 5.7 or higher.
Vapor Keys has a list price of $49, but you can get a massive 70% discount using the BPB exclusive promo code BPB70.
The library is split into two sections, Electric Pianos and Vapor Keys.
The Electric Pianos are multi-velocity sampled instruments with presets taken from vintage FM gear with two effects per patch; detuned chorus and phaser. There are nine Electric Pianos in total, with a decent list of presets providing the authentic FM Electric Piano sounds of the 80s and 90s.
There are fourteen Vapor Keys, and those take a more hybrid approach. Vapor Keys are a blend of FM pianos, synths, and reverbs, with vintage sources like the Yamaha DX7 through to the modern Arturia MicroFreak. Karanyi Sounds used Eventide reverb units and tape machines to give these instruments the right character and presence.
The interface doesn't stray too far from the usual Kontakt-style layout, and it has some nice features.
The Scoring EQ has two custom EQ settings designed to create space for dialogue in films.
A Dreamonizer fader blends two layers of recorded samples in every synth.
These kinds of sounds are usually divisive; you either love them or hate them. I love them because it's a sound that has made me think, wow, that's amazing, and wow, that's so terrible that it's amazing. It's a win/win for me.
If you want more retro vibes, check out the free Retro Cazio from SampleScience.
I have to go drive a ridiculously fast speedboat directly towards the sun now and you can use the exclusive BPB70 code to get 70% OFF Vapor Keys and play a suitable soundtrack.
More info:
Vapor Keys (70% OFF with coupon code BPB70)
---
↑↑↑ 上方链接直接到达 ↑↑↑
资讯出处:BPB Deal: 70% OFF Karanyi Sounds Vapor Keys For NI Kontakt - Bedroom Producers Blog