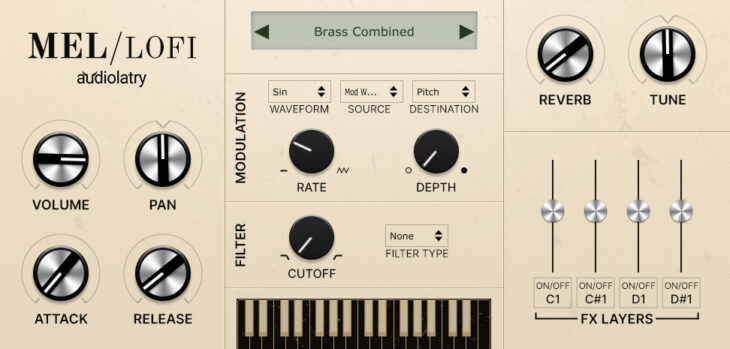 Audiolatry offers Mel-Lofi, a FREE virtual instrument for macOS and Windows.
Mel-Lofi is a virtual instrument (ROMpler) that gives us the sound of the Mellotron (samples recorded by Tajiguy).
The Mellotron is a weird and wonderful instrument famous for its unique sound and design. It was developed in the early 1960s, and its sound came from pulling a short length of tape across the playback head as the keys are pressed.
A few hardware variations are available now, including digital recreations, and they are all relatively expensive. It's still a sought-after sound; I still go to my old King Korg for its Tron sound.
Mel-Lofi gives us a taste of that sound for free with 23 instrument presets. The featured presets include Strings, Brass, Vibes, Flutes, and more.
It sounds gritty, old, and a bit like an instrument that has seen better days, which is what you want from a lofi plugin.
There are four FX layers: Vinyl, Radio Noise, Mechanical Belt Noise, and Rain. It also features a Tremolo section and Room Reverb.
The FX layers can be toggled on/off by key switches, making it easier to develop the tone/sound as you play.
The retro-styled GUI provides further controls for an Attack/Release Envelope, Lowpass/Highpass Filter Cutoff, and global Gain, Pan, and Tune knobs.
We've covered a few instruments from Audiolatry, like PlastikGuitar and Drum8. It's probably the keyboard player in me, but Mel-Lofi is my favorite so far.
While I think Audiolatry has done a great job of capturing the character of the Mellotron with an exaggerated lofi feel, we shouldn't get too caught up in comparing it to the original hardware. It's a very useable sound that will be great in the right context.
Audiolatry lists some suitable genres, including Lofi Hip-Hop, Chillout, and EDM. It's great for so many things; I love the Tron Strings sound on Sci-Fi and dystopian future scores; on their own or under some pristine strings to add some grit. The kind of things that the late, great Vangelis would have done with Tron sounds.
Mel-Lofi is available in AU, VST, and VST3 formats for macOS(El Capitan to Monterey) and Windows (8.1 to 11).
Download:
Mel-Lofi (590 MB download size, ZIP archive, 64-bit VST2/VST3/AU plugin formats for Windows & macOS)
More:
---
↑↑↑ 上方链接直接到达 ↑↑↑
资讯出处:Mel-Lofi Is A FREE Mellotron Instrument By Audiolatry - Bedroom Producers Blog