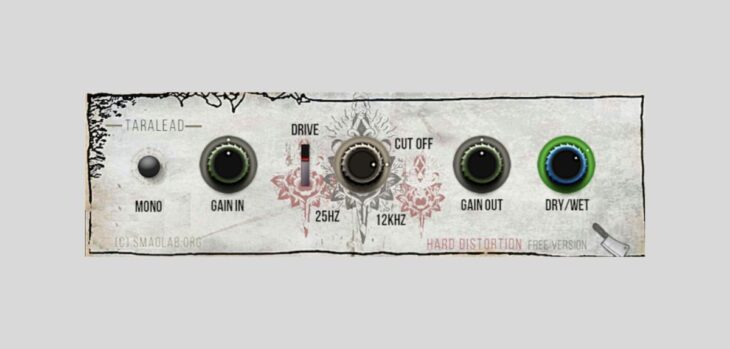 SMAO#LAB has just dropped TaraLead, a freeware heavy-hitting distortion/overdrive plugin!
The company has recently released a handful of other saturation and distortion plugins, but as the name implies, TaraLead is designed explicitly for roaring, distorted lead tones.
While distortion tends to get mentioned most while talking about guitar, it's becoming more and more relevant in other genres, especially Trap- think crazy 808's and distorted vocals.
SMAO#LAB delivers these crazy distortion tones in one small package.
TaraLead features a simple and easy-to-use interface with a few knobs for gain in/out knob, filter, and overall dry/wet controls. It also has a drive fader and mono switch.
The mono switch is handy for those looking to add this plugin to a bass or kick- sounds that you want to keep centered in the mix.
The algorithm used in this plugin is specifically designed for intense lead tones, and it uses an asymmetric clipping mode.
Asymmetric clipping means that one side of the signal is clipped more than another. This style of clipping results in different harmonics that can produce a very dark, inharmonious, and dissonant sound.
SMAO#LAB even mentions that their plugin can easily create some pretty wild distortion tones but mentions, "if you feel that the sound is too TRASH, you can reduce this feeling by playing on the FILTER Knob."
Distortion can often add some harshness in the upper-frequency ranges. As they suggested, using a filter to take out the highs can help you take out the "TRASH" without sacrificing the drive and body of the sound.
I found this plugin to be quite valuable in a variety of scenarios.
There are many opportunities to turn up the drive and crank out some crazy lead guitar tones as a guitarist myself.
Alternatively, keeping the drive down can add a lot of shimmer and texture to other instruments such as drums, keys, and even pads- great to help individual tracks stand out in the mix!
TaraLead works in 32/64-bit on Windows 10 and higher. On macOS, 64-bit, and version 10.12 or higher is required.
This plugin is compatible with all DAWs that support VST, VST3, and AU formats.
Download:
More:
---
↑↑↑ 上方链接直接到达 ↑↑↑
资讯出处:SMAO#LAB Releases FREE TaraLead Distortion Effect - Bedroom Producers Blog