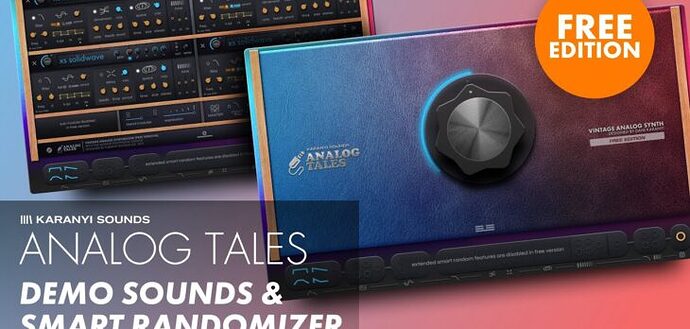 Karanyi Sounds have released Analog Tales Free Edition for Native Instruments Kontakt.
Analog Tales Free Edition is a Kontakt instrument that gives you a taste of the developer's flagship engine. It's an ideal way to test some sounds before committing to the extended paid version of Analog Tales ($75).
While the paid and free versions of Analog Tales share the same engine, there are a few differences. The free version is limited to two sound sources (it features two complete soundscape patches from the Analog Tales Library) and basic Smart Random controls.
As a sound design tool, it gives you four synth layers to play with, making it useful for various types of sounds.
When I hear instruments like this, I tend to be more drawn to the pads and soundscapes than plucks, basses, etc. I love the more cinematic sounds, and Analog Tales sounds like it does that pretty well.
Whenever I say cinematic, it triggers me to mention the Cinematic SFX pack from Flame Sound; it's epic.
On a similar note, if anyone is looking for something cinematic to listen to, check out Bernard Hermann's Taxi Driver score. Although some of it sounds quite sweet, it has an uneasiness that perfectly captures the isolated, disillusioned, angry protagonist. If you're into movie scores, feel free to tell me that I just made an obvious suggestion, it's a classic. But, for anyone who isn't (yet), anything by Bernard Hermann is a great place to start.
Back to Analog Tales.
The Smart Randomizer is limited to just Random All and four ADSR shapes. Using the randomizer will randomly but musically change the ADSRs on all four synth layers at once. You can manually adjust parameters via the edit screen.
Analog Tales Free Edition requires Kontakt 6.7 or higher and is compatible with macOS (10.11 upwards) and Windows (7 upwards).
The free Kontakt Player is not supported. If you use Kontakt Player, check out our list of free Kontakt Player libraries.
If you use the full version of Kontakt, you should try Analog Tales. It sounds like it could be great for cinematic stuff, and it's always nice when you can do that for free.
Download:
More:
---
↑↑↑ 上方链接直接到达 ↑↑↑
资讯出处:Karanyi Sounds Relaeses Analog Tales FREE Edition - Bedroom Producers Blog