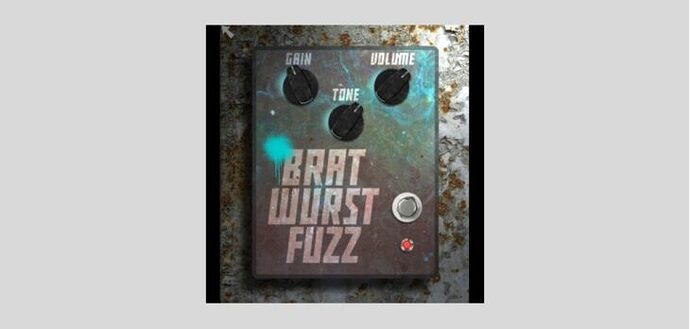 Doom Plugs has released Bratwurst Fuzz, a completely FREE distortion/fuzz pedal plugin!
The fuzz pedal has been an essential part of many guitarists' pedalboards since the days of Hendrix. Its iconic tone can yield various effects depending on how much you crank it up.
I think it's safe to say that most guitarists like at least a little bit of fuzz.
Doom Plugs has brought this iconic tone into the modern age with Bratwurst Fuzz, a virtual fuzz/distortion pedal designed to add grit and grime to any sound you throw at it.
This virtual pedal is quite simple. It features a Gain, Tone, and Volume knob, which all act as the primary controls for your sound.
Bratwurst Fuzz can be configured despite this relative simplicity to create some exciting effects.
For those looking to crank it up and add some nice lead tone to their guitar or bass, this plugin features 16x internal oversampling.
As most guitarists know, the legendary Jimi Hendrix would often play his guitar at a lower volume in combination with a fuzz pedal. The result would be a beautiful sounding crunch and crackle to his guitar tone.
It's easy to achieve a similar effect with the Bratwurst Fuzz by dialing down the Gain and Tone knobs.
While this plugin is predominantly designed for guitar, at lower Gain/Tone, it can add some excellent saturation to any instrument you're using.
The UI of Bratwurst Fuzz also features a helpful arrow to resize the plugin quickly. Very handy if you're looking to promptly save some screen real estate while working with multiple plugins!
As a final bonus, Doom Plugs decided to add some paint splatter designs for, as they said, "good measure."
Ultimately Bratwurst Fuzz is a simple yet effective Fuzz/Distortion pedal that can be a valuable tool in any producer's arsenal of plugins.
Download and installation are straightforward. Follow the link to the Bratwurst Fuzz product page on the Doom Plugs website, select the appropriate format, and the download will begin.
Bratwurst Fuzz is compatible with Windows or Mac in VST3 and AU formats.
Download:
Bratwurst Fuzz (Windows 64-bit VST3 and macOS VST3/AU)
More:
---
↑↑↑ 上方链接直接到达 ↑↑↑
资讯出处:Bratwurst Fuzz Is A FREE Distortion Plugin By Doom Plugs - Bedroom Producers Blog