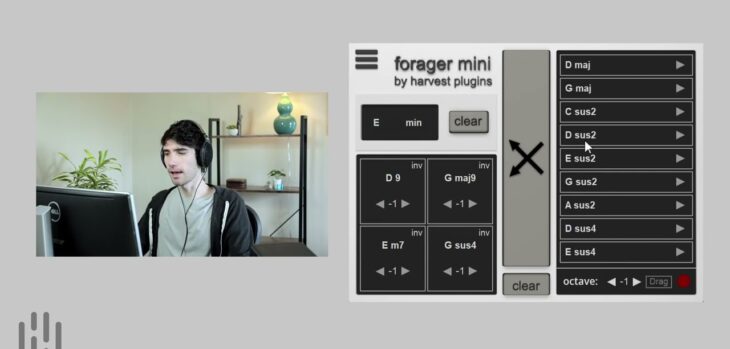 Harvest Plugins offers the Forager Mini chord assistant as a FREE download for a limited time.
Forager Mini has a retail price of $10, which is pretty cheap compared to some similar products, but you can grab it free until August 6th, 2022.
When it comes to plugins like Forager Mini, I've found that there isn't much middle ground; people usually love them or hate them. I try to find some middle ground because I can see both good and bad in using a chord assistant. Before getting into why people love or hate them, let's look at what Forager Mini does.
In the most simple terms, a chord assistant lets you trigger more complex chords with a single key/pad, similar to a chord mode that you'd find on most beginner keyboards. As they are often used in professionally released music, they are more advanced than something you'd get on an old Casiotone.
It starts by choosing a key and scale; for example, you could choose the key of C, then select the scale type as major or minor, etc. One of the things I like is that Forager Mini includes quite a few slightly more exotic options, like variations of the Lydian mode and the Bebop scale.
Once you've made your choices, you'll see a list of the chords that fit diatonically within that scale. Using the displayed chords, you can then create a progression(up to four chords). There's also a random button if you're struggling for a good starting point.
Another thing I like about Forager Mini is that you can change the octave and inversion of individual chords.
Depending on your software, you can either record progressions straight into your DAW or use the internal record button and then drag the results to your instrument track.
I know many people who hate chord assistants because it's a "cheat sheet" and a "shortcut." While I understand the sentiment, I don't share that opinion, and I think there's too much snobbery amongst musicians sometimes.
For me, the downsides are that a chord assistant won't tell you when to use chords outside of your chosen scale or stack chords for huge Collier-like Super Lydian voicings. It can also encourage you to be lazy if you use it exclusively, and what happens when you're around a real piano and someone asks you to play that awesome progression you wrote?
One upside is that not everyone needs to step outside the chosen scale or use exotic voicings (especially EDM and similar genres). Also, it can teach you a lot about progressions that work and don't work.
It's then up to the user to decide if they want to learn more about the notes that make up these chords. As a huge advocate of music theory, I think turning a chord assistant into a reason to learn more about harmony is the way to go.
Other options include the $49 Forager Full with additional features and Plugin Boutique's Scaler.
Remember, Plugin Boutique has a bunch of iZotope deals and a couple of free gifts (Neural Q and Spread Light) throughout July.
Forager Mini is available in AU and VST formats for macOS (10.7 – 12.1) and Windows (7, 8, 10, 11).
Download:
Forager Mini (FREE until August 6th, 2022)
More:
---
↑↑↑ 上方链接直接到达 ↑↑↑
资讯出处:Harvest Plugins Offers FREE Forager Mini Chord Assistant - Bedroom Producers Blog