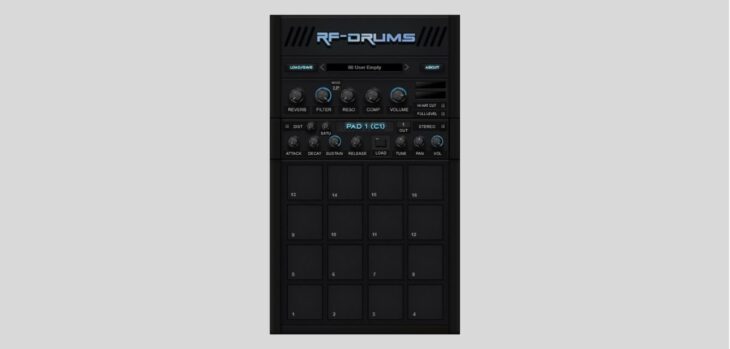 Ronan Fed releases RF-Drums, a freeware drum sampler plugin for digital audio workstations on Windows.
We've seen a couple of excellent freeware drum samplers in recent years. Sitala and Speedrum Lite provide all the necessary drum sample playback features while focusing on keeping the workflow as efficient as possible. Our free Grooove BPB plugin is another interesting option for triggering drum samples.
And let's not forget the incredible Poise drum sampler by One Small Clue. The plugin is now discontinued and only available for Windows, but it's still one of the best drum plugins around.
With these in mind, it's hard to imagine another free drum sampler entering the scene and stealing the show. But, Ronan Fed's new RF-Drums plugin offers its own take on the compact drum sampler concept, and it's quite possible that some producers will like it more than the aforementioned plugins.
Firstly, RF-Drums comes packed with a decent collection of vintage and modern drum samples. The included sounds are sorted into drum kits by genre, providing an easy starting point for new projects.
The plugin includes 25 drum kits in total, each containing sixteen individual drum sounds. The kits cover various classic drum machines (the TR-X0X series, Linn classics, etc.) and popular music genres (Rock, Trance, Cinematic, etc.).
You can use the included drum sounds or load your own drum samples to build custom kits. And speaking of drums, be sure to check out our ultimate list of free drum kits.
Once you're happy with the loaded sounds, you can customize them using the included filter, compressor, and reverb effects. RF-Drums also lets you reshape the amplitude envelope, change the tuning, and adjust the stereo image for each drum pad.
The loaded sounds are organized into a 4×4 drum pad grid, which is a pretty standard layout in drum samplers. In addition, RF-Drums offers a couple of performance controls, namely hi-hat choking and fixed velocity.
You can download RF-Drums for free from the product page linked below. The software is available in 64-bit VST2 and VST3 plugin formats for digital audio workstations on Windows.
Download:
More:
---
↑↑↑ 上方链接直接到达 ↑↑↑
资讯出处:Ronan Fed Releases FREE RF-Drums Drum Sampler Plugin - Bedroom Producers Blog