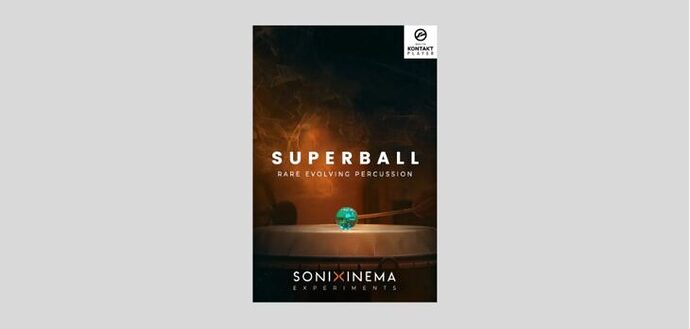 Sonixinema offers Superball FREEBIE, a percussion sample library for Kontakt.
There is a paid version of Superball, but to save writing FREEBIE all over this article, I'll stick to Superball for the free version unless I reference the paid version specifically.
Superball isn't a typical percussion sample library; it focuses on evolving and sometimes chilling sounds.
Superball refers to a type of mallet (a wooden stick with a relatively large plastic ball on end) used on various percussion instruments. By dragging the Superball over the surface of many percussion instruments (especially larger ones), you can create friction that produces evolving, wailing, and often eerie sounds.
Sonixinema has tested this technique on Orchestral Bass Drums, Taikos, Timpani, Thundersheets, Tam Tams, Gongs, and more.
Sonixinema created the Superball library at British Grove Studios in London with the help of some top-notch musicians and engineers. British Grove Studios is owned by Mark Knopfler of Dire Straits, born in my home city of Glasgow.
Superball is a very cinematic library, and the developers didn't cut any corners when finding collaborators with the right experience. Sonixinema brought in renowned percussionist Joby Burgess and engineer Nick Wollage, both of whom have vast experience working on blockbuster movies.
The free version of Superball requires the full version of Kontakt, but the paid version works with the free Kontakt Player.
As well as access to some pretty amazing sounds, Superball provides various ways to shape and manipulate the sound further. The GUI allows you to drift across multiple microphone positions and morph between contrasting articulations.
The articulation morphing is interesting because these kinds of sounds are often ambiguous and drag the lister through emotional uncertainty. So, I like the idea of morphing from subtle to aggressive articulations as a way to build tension before getting obviously sinister.
We've covered a bunch of freebies from Sonixinema in the past, including Contemporary Violin and Piano Textures.
As most of you will have already noticed (thanks to me blatantly telling you so many times), I'm a sucker for the cinematic stuff, and I love what I hear from Superball so far.
Download:
Superball (requires the full version of Native Instruments Kontakt)
More:
---
↑↑↑ 上方链接直接到达 ↑↑↑
资讯出处:Sonixinema Releases FREE Superball Percussion Sample Library - Bedroom Producers Blog