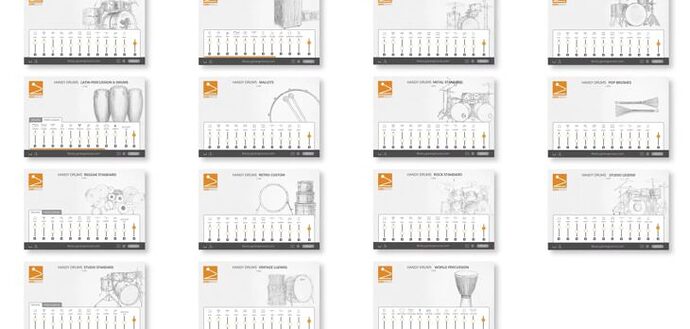 GoranGrooves offer all readers of BPB an exclusive 10% off their Handy Drums Producer Collection ($249) and a chance to win one Handy Drums Plugin for FREE!
Handy Drums are a collection of over 15 virtual drum instruments offering professionally recorded, ready-to-use drum samples!
This assembly offers drums and percussion instruments suited for nearly every genre of music, from rock, reggae, grunge, and many more.
A common issue amongst drum sample packs and virtual drum instruments is that the recordings are unmixed. This lack of processing often leads to them sounding dry and mismatched.
The Handy Drums Producer Collection offers samples that the company Goran Grooves has "invested hours upon hours painstakingly editing from multi-track recordings, so you don't have to."
The drum sounds can be dropped into any track and sound good immediately!
These plugins are designed in a user-friendly way so that you have to choose your drum genres of choice and then punch in your desired midi pattern.
Featuring a simple yet intuitive user interface, it's pretty easy with Handy Drums to get an excellent-sounding drum groove with minimal tweaking.
Once you've selected your drum genres, the plugin displays a clean rack of all the drums in the pack, such as snare, tom, kick, etc. Users can audition each sound individually and set levels with a fader.
Although pre-mixed, each drum sound can also be routed to one of eight outputs allowing each sound to be processed individually with effects such as eq, reverb, and compression.
The drums can also be key mapped to midi, so you can play them with your midi keyboard or even loaded into a sampler.
Goran Grooves frequently emphasizes that their goal is to make their instruments "sound like an actual drumset being played right in front of you in a room."
A contributing factor to these virtual instruments' authentic sound is that up to 12 samples are being rotated at each dynamic level. This results in a realistic sound in which no one sample is repeating, just like a real drummer is playing.
In addition, hi-hats within these packs are made up of over 700 samples and can be played from 25% to 100% open.
Readers of BPB can enter to win one FREE Handy Drums plugin of their choice and 10% off all Handy Drums instruments. Follow the link to the website and enter your name and email to enter the sweepstakes.
CLICK HERE TO ENTER THE GIVEAWAY
The Handy Drums Producer Collection is available on the GoranGrooves website in 64bit, VST2, VST3, AU formats, and standalone apps for Windows and macOS.
More info:
Handy Drums Producer Collection / Giveaway (sign up for the giveaway to receive a 10% discount via email)
---
↑↑↑ 上方链接直接到达 ↑↑↑
资讯出处:GoranGrooves Handy Drums Giveaway + 10% OFF Discount! - Bedroom Producers Blog