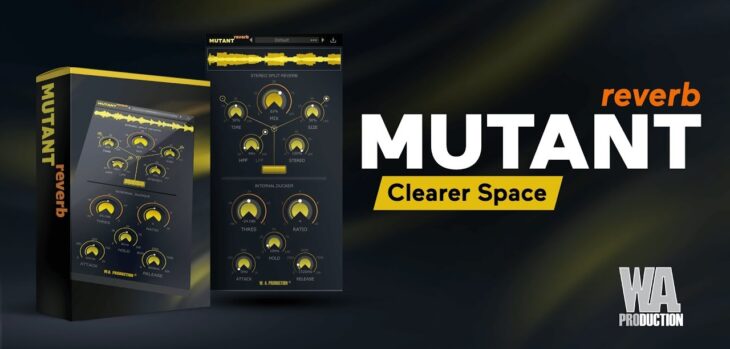 W.A. Production offers the Mutant Bundle ($78 list price) at an exclusive 75% OFF discount for all BPB readers until August 31st, 2022.
The Mutant Bundle features two plugins: Mutant Delay and Mutant Reverb. The bundle usually costs $78, but BPB readers can get an exclusive 75% discount using the code MutantBPB.
This exclusive offer is valid till August 31st, 2022, so if you like the sound of these plugins, grab them before it's too late (too late to save money, at least!).
Mutant Delay
Mutant Delay is a host-synced delay with a built-in internal ducker with compressor-style controls.
A ducked delay is relatively common in vocal processing, but it's not always as straightforward as it could be. With this plugin, W.A. Production seeks to remove the need for complex or tedious sidechain and compression routing.
When a plugin offers something that can otherwise require several tools/steps, the concern is that you sacrifice some precision control for simplicity. With two filtering modes, plenty of presets, and detailed visual feedback, it seems Mutant Delay isn't taking any unnecessary shortcuts.
Mutant Reverb
Mutant Reverb is a mono to stereo reverb plugin, which also features a built-in ducker.
Something that previously sounded incredibly articulate can turn to mud fast if you get carried away with reverb. Whether it's vocals, drums, keys, or any other instrument/sound, reverb can get away from you if you are too heavy-handed.
The built-in ducker makes it easy to set up a reverb that won't overwhelm the original sound and, most importantly, won't wash away clarity and crispness.
Mutant Reverb also has plenty of presets and detailed visual feedback from a real-time waveform display.
Mutant Bundle
Any plugin that can get the desired result faster than previous methods is a good thing. If you spend any amount of time working on ducked delays/reverbs, you should have a look at the Mutant Bundle while the discount is available.
As a bonus, you'll get a free copy of the Vocal Mega Pack 3 with your purchase.
Also, don't forget Waves SuperTap delay is FREE (usually $79) for a limited time, and we don't know when it will end, so don't delay! (wow, that's terrible).
The Mutant Bundle plugins are available in AU, VST, and AAX formats for macOS (10.15 upwards) and Windows (8 upwards).
Get the deal: Mutant Bundle (use coupon code Mutant BPB to get 75% OFF)
More:
---
↑↑↑ 上方链接直接到达 ↑↑↑
资讯出处:BPB DEAL: Get 75% OFF W.A. Production Mutant Bundle - Bedroom Producers Blog