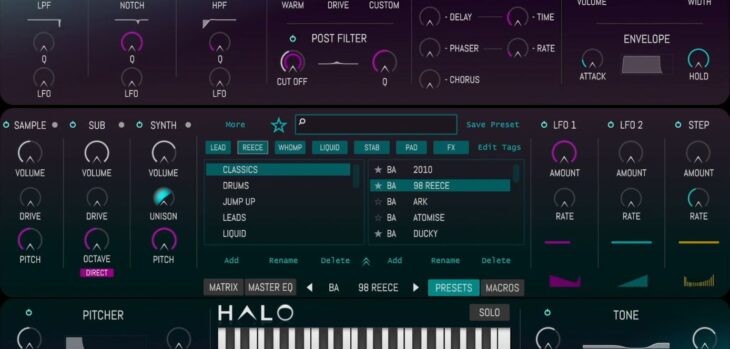 W.A. Production offers the HALO Lite virtual synthesizer plugin FREE for a limited time.
When we say something is free for a limited time, you usually have weeks or even a month to get it; this time, you have days, so act fast (seven days, to be exact).
HALO Lite from DHPlugins is a hybrid synth/sampler/rompler and a streamlined version of the developer's flagship HALO synth. It typically retails at around $24.
HALO Lite comes with 47 presets and eighteen sample banks, while the full version has over 360 presets and 300 sample banks.
Despite not packing the full punch of the flagship version, HALO Lite is a little powerhouse in its own right, especially if you can get it for free.
It has a sub/dual oscillator synth, a custom waveshaper, a step sequence modulator, and three distortion modes.
Before even hearing how it sounds, a look at the GUI will tell you that HALO Lite (and the full version) is a pretty ambitious debut release from DHPlugins. Each section of the synth, from Filter and Distortion to FX and LFOs, is well-defined and neatly arranged.
It also features a smart preset manager, which is searchable by name, type, or tag.
Each preset comprises a Sample, Sub, and Synth layer that you can adjust or deactivate.
The developer used a blend of hardware and software synths, FX, and processors when creating the HALO sample banks. HALO Lite allows you to switch sample banks within presets, which makes it easier to experiment with different combinations. If you still can't find the right sound, you can try the randomizer, which might surprise you.
I'd recommend grabbing it while it's free, regardless of your preferred genre, but especially if you create EDM tracks or anything similar.
We all love a free synth, so if you missed it the first time, check out Fluctus, a free synth in the CLAP format for Windows.
HALO Lite is available in AU and VST3 formats for macOS and Windows.
Download:
More:
---
↑↑↑ 上方链接直接到达 ↑↑↑
资讯出处:DHPlugins HALO Lite Virtual Synthesizer Is FREE For A Limited Time - Bedroom Producers Blog