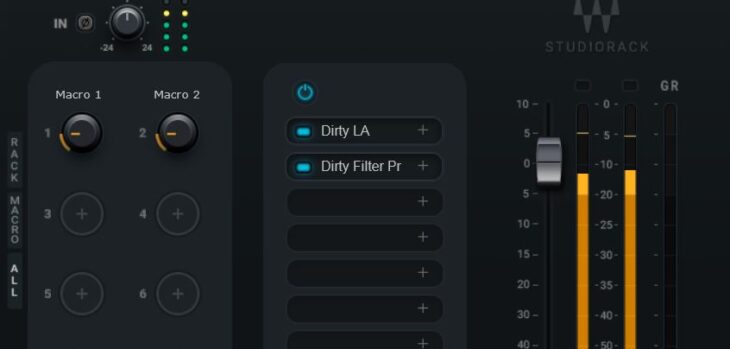 Waves Audio released an updated version of the freeware StudioRack plugin chainer, adding the ability to host VST3 plugins by other developers.
StudioRack is Waves Audio's free plugin chainer. Until recently, it was only capable of loading other Waves plugins. The latest v14 update introduces the possibility of hosting third-party plugins, making StudioRack a fantastic tool for adding more flexibility to any DAW.
The beauty of it is that StudioRack doesn't simply load plugins in a serial chain (although that would be useful for saving custom FX chains, too). StudioRack can do much more, including splitting audio into parallel processing racks, multiband processing, and macro controls.
That's right, you can now use StudioRack to create custom multiband processing chains. For example, load a couple (or more) instances of your favorite freeware compressor to build the ultimate multiband compressor. Or, add some saturation to the high frequencies while heavily compressing the bass portion of the signal.
The flexibility doesn't stop there. You can also use StudioRack for parallel processing, including mono, stereo, and M/S parallel racks.
Macros are another excellent time saver. You can create up to eight custom macro controls by combining multiple parameters from any plugin loaded in the chain. For example, use a single knob to push the sub-bass and cut the mid frequencies while distorting the top end.
All of this is possible in a convenient user interface with a simple and intuitive design. It resembles the FX section found in most plugin hosts, so there really isn't much of a learning curve when using StudioRack for the first time.
In other words, if you ever wanted to develop a complex FX plugin but didn't have the coding know-how, StudioRack now lets you unleash your inner Chris Johnson right in the comfort of your favorite DAW.
Speaking of DAWs, let's not forget that you can transfer your plugin chains between projects or even hosts. Save your custom FX setup in Waveform 12 Free and then load it in Cakewalk or any other free DAW.
Waves Audio typically gets some negative comments because of their upgrade plan, but you don't have to worry about the updates in this case. StudioRack is entirely free, and you can use it in your setup without any limitations.
So, if you're looking for an easier way to save custom FX chains, or if you want to put your own FX concepts to test, go ahead and give StudioRack a try.
StudioRack is available in VST2, VST3, AU, and AAX plugin formats for 64-bit hosts on Windows and macOS.
Download:
More:
---
↑↑↑ 上方链接直接到达 ↑↑↑
资讯出处:FREE Waves StudioRack Now Hosts Third-Party VST3 Plugins - Bedroom Producers Blog