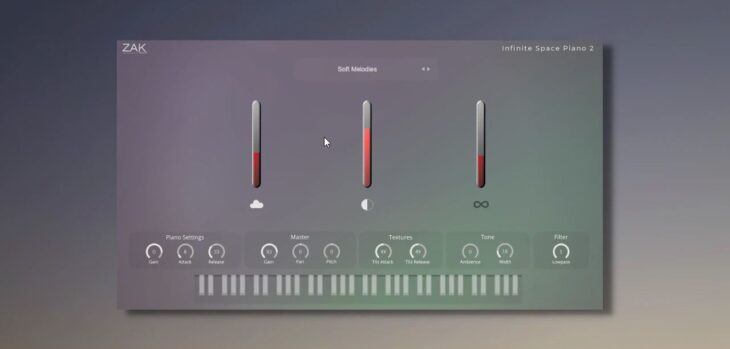 ZAK Sound offers Infinite Space Piano 2, a free cinematic piano instrument in VST3 and AU plugin formats for macOS and Windows.
Infinite Space Piano 2 is a freeware cinematic piano. As the name suggests, it excels in dreamy and ethereal piano sounds that can be ideal for many projects, from Pop music to media scores.
I never got Infinite Space Piano the first time around, so I can't compare this new version, but it does come with some notable enhancements.
It comes with a renewed GUI with simple controls. The biggest portion of the interface is taken up by three main sliders that control the ambient background textures. These three sliders are the heart of your sound because it's not about being the most realistic piano but the texture and how the sound evolves and releases.
So, if you're after a straightforward piano for Adele-style ballads, it's not this one. If you want a great piano for lo-fi tracks, dreamy Pop, or cinematic music, it is the one.
Further down the GUI, you'll find additional sections, including Piano Settings, Master, Textures, Tone, and Filter.
The Piano Settings include Gain, Attack, and Release, and they can be very helpful because the original piano tone can sometimes get lost. I know I said the textures are the most important part, and that's true, but it's good to adjust that initial piano tone to make sure it has the desired impact.
I'm not sure how many presets the original version offered, but Infinite Space Piano 2 comes with seven. My favorite preset (so far) might be Morning Blue; everything above middle C has a lovely soft piano tone with an airy texture that rings out with subtle movement. Everything below middle C has less impact but provides beautiful contextual harmony.
I love free piano plugins because you can build so much around them.
I like Infinite Space Piano 2, it's not for every purpose, but it's perfect for the correct use.
I installed it on macOS, and I know manual installs can sometimes irritate people, but it's a speedy process with a couple of drags & drops. You must create a user account to download the product, but that's pretty quick, too.
For more free pianos, check out Glass Piano from LABS and VSL's Soft Imperial Grand Piano.
ZAK Sound also offers a significant discount on Sierras Atlas via ADSR Sounds until September 14th. Sierras Atlas (usually $34.90) is a cinematic instruments plugin, and you can grab it on sale for $14.
Infinite Space Piano 2 is available in AU and VST3 formats for macOS (El Capitan to Monterey) and Windows (7, 8, 10, and 11).
Download:
More:
---
↑↑↑ 上方链接直接到达 ↑↑↑
资讯出处:ZAK Sound Releases FREE Space Piano 2 Cinematic Instrument - Bedroom Producers Blog