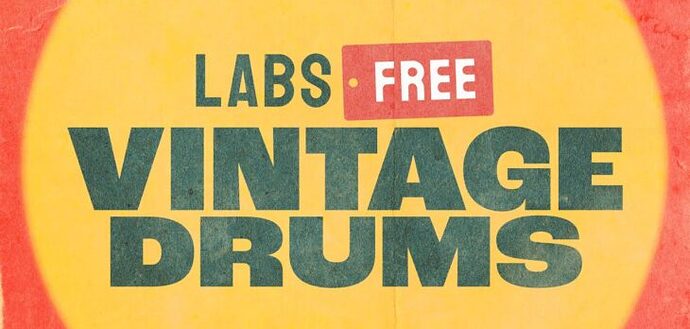 Spitfire Audio releases Vintage Drums as part of the FREE LABS collection.
Vintage Drums is the latest addition to one of my favorite free collections, LABS from Spitfire Audio.
One of the things that I like most about LABS instruments is that they usually come with an interesting story. It could be a rare instrument, location, or even just a great studio or musician; Spitfire Audio always makes an effort to create something a little different.
Vintage Drums continues that trend by featuring two stunning kits recorded in a world-class analog studio.
The featured kits are a 1975 Ludwig with a 26″ bass drum (a la Jon Bonham) and a 1940 Slingerland kit with calfskin heads. The studio in question is Kerwax Studio in Brittany, northwestern France.
Spitfire Audio recorded each kit with five dynamic layers and five round robins spread over two octaves.
As Kerwax Studio is one of the few fully-analog studios remaining, Vintage Drums was recorded using a blend of extremely rare microphones/gear and a handmade micing console. As well as perfectly restored vintage kits, and rare studio equipment, we get the sound of some unique spaces offered by Kerwax Studio.
It's worth checking out the Kerwax website; it's a remarkable studio.
Vintage Drums runs via the free and straightforward Spitfire Audio plugin. The plugin allows you to control expression and dynamics, blending a super tight sound and the more open "as recorded" sound highlighting the room/space.
You can adjust the reverb and grittiness from clean to a custom over-compressed sound.
You can easily achieve anything from a small combo sound to thunderous rock drums.
The cool thing about this LABS addition, for me, is that it's immediately versatile. It's an excellent addition for media composers and a fantastic kit for songwriters working on new material.
If you aren't familiar with LABS yet, please check it out; the collection includes some of the best free cinematic instruments available.
Some of my recent favorites include Foghorn, Tape Piano, and Cello Moods.
The free Spitfire Audio plugin is available in AU, VST2, VST3, and AAX formats for macOS (10.13 – 11 – Intel/M1 supported) and Windows ( 7, 8, or 10).
Download:
More:
---
↑↑↑ 上方链接直接到达 ↑↑↑
资讯出处:LABS Vintage Drums Is A FREE Sound Library By Spitfire Audio - Bedroom Producers Blog