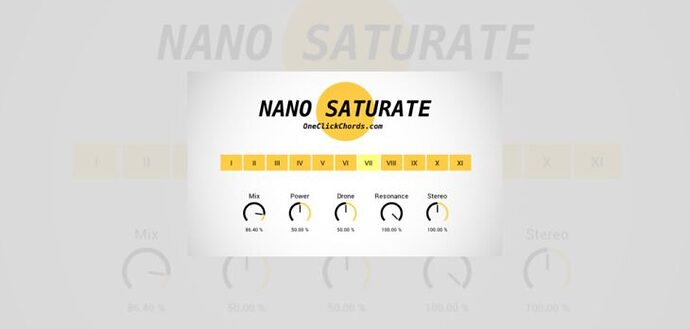 OneClickChords released Nano Saturate, a free saturation VST3 plugin for digital audio workstations on Windows.
Saturation is a useful tool in any producer's toolbox, whether they're looking to crush some 808s or enhance a thin vocal. Thankfully, there are many free saturation plugins nowadays, and the latest one comes from OneClickChords, the same developer who recently brought us Nano Dynamics.
Nano Saturate features 11 algorithmically different saturation algorithms, all packed within one FREE plugin.
Each of the eleven modes features a distinct style of signal saturation. This allows for the use of the plugin on various instruments and even the entire mix.
The creators claim that "Nano Saturate was developed to create the sound of a modern progressive house and sounds best on distorted supersaws."
Despite this claim, I found more applications for these different saturation effects beyond progressive house and similar music styles.
Saturation is a universally practical effect, and I found Nano Saturate's different algorithms to be handy in various genres, including pop and hip-hop.
In particular, Algorithms "II" and "IX" can add a lovely shimmer to vocals, guitar, and hi-hats when mixed in at relatively low levels.
For those looking to make heavy trap, hip-hop, and EDM, options "IV" and "X" can deliver some punchy saturation to kicks, 808s, and mid-bass.
Beyond the different saturation types, Nano Saturate also features an "invisible limiter" that "never lets peak levels of the wet signal surpass peak levels of the dry signal." This prevents too much differentiation between the original sound and the limited sound.
Nano Saturate has five primary control knobs at the front and center of the interface: Mix, Power, Drone, Resonance, and Stereo.
Mix and power are pretty straightforward, with mix determining the overall dry/wet of the plugin and power setting the intensity of any selected saturation algorithm.
Drone and resonance are helpful to set how much resonance the algorithm picks up, and the drone controls how much non-resonance signal get's mixed in.
Stereo allows users to increase the width to 200% or reduce the signal to mono. Also, users can use the stereo knob to bypass the aforementioned invisible limiter and combine signals further.
Nano Saturate is currently only available to Windows users in VST3 format. You can follow the development and join the discussion on the official subreddit.
Download:
Nano Saturate (free download via KVR Audio)
More:
---
↑↑↑ 上方链接直接到达 ↑↑↑
资讯出处:OneClickChords Releases FREE Nano Saturate Plugin For Windows - Bedroom Producers Blog