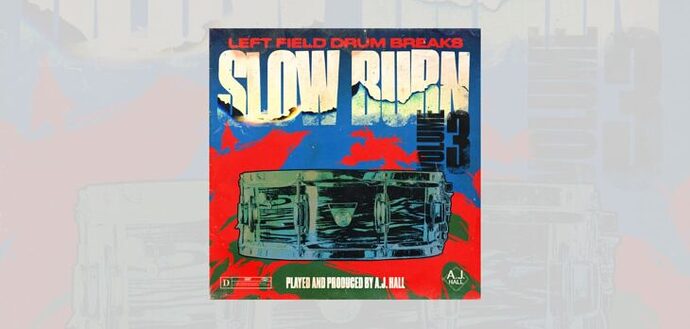 Left Field Drum Breaks offers a free copy of the Slow Burn Vol. 3 ($50) drum breaks collection to one lucky BPB reader. Read on to learn more about the Left Field Drum Breaks project and to enter the giveaway.
Left Field Drum Breaks is the brainchild of A.J. Hall, a drummer and producer who crafts some of the most refined drum loops you can get right now. If you produce any style of music that uses drum breaks, you seriously need to check out this incredible collection of sounds.
A.J. Hall's website gives you instant access to hundreds of inspiring breaks performed live and meticulously looped, edited, and mixed. The loops are provided in 16-bit WAV format, ready to use in your projects. You can also access the raw stems if you want to mix them from scratch.
But to understand the magic behind Left Field Drum Breaks' vintage sound, you need to look at A.J. Hall's production workflow. He uses four different drum sets and captures the performances on 1/4 inch analog tape. The audio passes through various bits of vintage gear before hitting the DAW for that final polish.
The drum kits are miked differently, ranging from modern multi-microphone setups to a unique single-microphone setup for achieving that authentic vintage sound. The numerous audio examples on A.J. Hall's official SoundCloud page showcase some of these different kits.
Apart from the drum beak collection, the website also offers drum-one shots and custom orders. The one-shot packs are great if you prefer building your own drum grooves using a drum sampler like Sitala or an electronic drum kit.
Check out A.J.'s "behind the scenes" video below to get an idea of how he gets these drums to sound so good.
There are over a dozen Left Field Drum Breaks drum packs you can purchase right now, but it's also worth checking out the All Breaks Bundle, which includes all products for $220 (discounted from $755).
Don't forget to use the coupon code SMOKE at checkout to apply an additional 18% discount to your order. So, you can get the All Breaks Bundle for just $180.4 with the added discount.
More info:
Left Field Drum Breaks / All Breaks Bundle
The Giveaway
Left Field Drum Breaks offer a FREE copy of the Slow Burn Vol. 3 ($50) pack to one lucky BPB reader! A big THANK YOU to A.J. Hall for sponsoring this giveaway!
Check out the official audio demo below.
To enter the giveaway, simply answer this question in the comments section below: What is your favorite-ever drum beat from any genre of music?
The winner will be announced on Monday, September 19th.
Good luck, and thanks for reading BPB!
More info:
---
↑↑↑ 上方链接直接到达 ↑↑↑
资讯出处:GIVEAWAY: Left Field Drum Breaks Slow Burn Vol. 3 - Bedroom Producers Blog