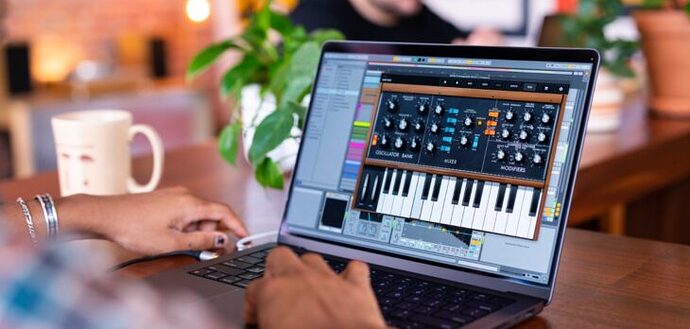 Moog releases its legendary Minimoog Model D synthesizer as an Audio Unit V3 plugin for macOS. Users who previously owned the Minimoog Model D iOS app can access the macOS plugin for free.
Moog is one of the most iconic names in hardware synthesis. Back in the early days, due to their compact size and relatively low price, Moog helped make analog synthesizers significantly more accessible to musicians.
The sounds of this synthesizer were admired by numerous famous bands/musicians ranging from The Beatles, and The Beastie Boys, to Michael Jackson.
One of their most popular models, the Minimoog, was revolutionary due to its small size and built-in keyboard. This advancement in technology resulted in a cheaper standalone analog synthesizer.
The company has bridged the gap between its original hardware synthesizers and the modern era of virtual instruments with a standalone app. Users can explore the iconic Moog sounds from their iPhone, iPad, or Mac.
Including over 160 presets, this app comes plug-and-play, allowing those new to synthesis an opportunity to immediately explore the iconic sounds of this emulation.
The Minimoog Model D app comes with all the features necessary for achieving that infamous "Moog" sound in software. Users can expect the three standard Minimoog oscillators and 4-note polyphony to create dynamic synthesized chords.
The app also includes a user-friendly arpeggiator and a loop function featuring unlimited overdubs. Both of these features allow for creating some classic-sounding synth patterns and loops.
As a final touch, there are a handful of classic modifiers, such as ADSR controls, standard HPF/LPF, and a tempo-synced ping-pong delay.
The most recent update has added an easy-to-use preset browser so that users can quickly navigate folders and even generate random presets.
Beyond the stock presets, Moog also offers expansion packs, each including 30 presets "ranging from polyphonic 'organ' patches and vintage bass tones to sci-fi sounds and soft, pastoral leads."
Moog includes a simple sharing feature to exchange presets with friends/collaborators to accommodate modern usage. Also, users can quickly back up presets they create to iCloud via the app.
The Minimoog Model D app is free to previous iOS version owners and costs $25 for new users.
This emulation of the Minimoog Model D synthesizer is now available as a standalone macOS application or in Audio Unit V3 format. Producers on macOS 11.2 and newer can use a VST3/AUv2 wrapper to convert this emulation and make it available with other DAWs.
If you'd like to access similar retro synth sounds on Windows, check out our list of free vintage synthesizer plugins.
Download:
Minimoog Model D ($24.99 for new customers, free for existing iOS app owners)
More:
---
↑↑↑ 上方链接直接到达 ↑↑↑
资讯出处:Moog Minimoog Model D App Is Now Available On macOS - Bedroom Producers Blog