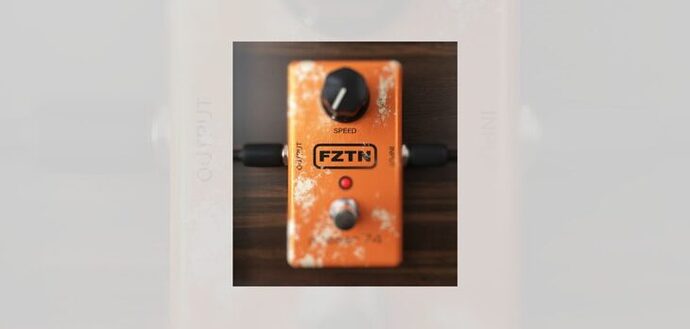 Fazertone releases Phaser 74, a freeware modulation of the MXR Phase 90 guitar pedal in VST3 and AU plugin formats.
Phasers are commonly associated with the '70s and '80s rock. They were used heavily by guitarists such as David Gilmour of Pink Floyd, Eddie Van Halen, and Jimi Hendrix. The popularity of this effect was primarily due to its larger-than-life impact on guitar tones.
When used properly, a phaser can add deep, almost psychedelic character to a lead guitar- hence the popularity of this pedal with bands in the psychedelic rock genre.
Fazertone's Phaser 74 models the famous MXR Phase 90, the first commercially available pedal offered by the company. The pedal was released initially as MXR's flagship pedal in 1974; hence the "Phaser 74" name Fazertone gave their emulation.
Fazertone emphasizes that when making this emulation, they "reproduced all the analog warmth of the original circuit so you can get it in plug-in format."
Just like the physical pedal, Phaser 74 features two simple controls: an on/off switch and a speed control which allows you to control the rate of the phasing.
Essentially, a phaser combines the input dry signal with a wet signal with a filter applied to disrupt the phasing at different rates.
An LFO is applied to this filter; as the speed is increased, the rate increases in which dry/wet signals drift in and out of phase with each other. These phase differences result in the trippy, psychedelic tones that many musicians love.
With the Speed knob turned down, the Phaser 74 pedal will yield soft, whooshing tones.
As you turn the Speed up, this emulation will begin to apply intense phase manipulation and create a nice vibrato effect.
Despite its relative popularity with guitar, phaser pedals were inspired by classic rotary organs. The Phaser 74 pedal can also add a soulful sound to any piano, keys, or synth sound you desire.
Using this pedal emulation on keys with the speed turned down creates a nice swirling vibe. When turned up, the pedal can create wonderful Rhodes-like tones that add movement and depth to any sound.
Phaser 74 is compatible with Mac OS X 10.14 and newer or Windows 7,8 and 10 or newer. This plug-in is available in VST3 and AU formats.
While you're visiting Fazertone, check out their Klone plugin. It's a great freeware overdrive effect that works great on guitars, but you can also use it as a secret weapon on synths.
Download:
More:
---
↑↑↑ 上方链接直接到达 ↑↑↑
资讯出处:Fazertone Releases FREE Phaser 74 Guitar Pedal Plugin - Bedroom Producers Blog