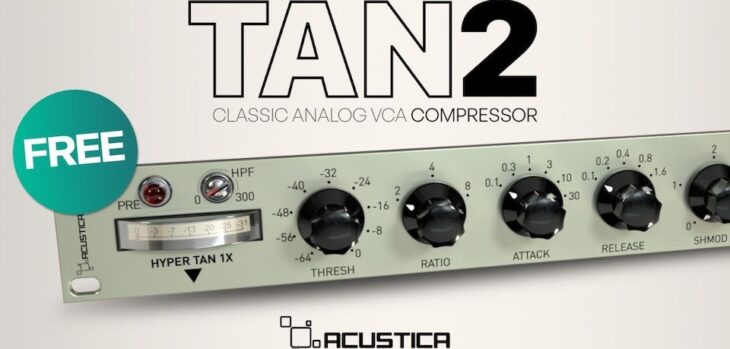 Acustica Audio releases TAN2, a freeware compressor effect in VST2, VST3, AAX, and AU plugin formats for Windows and macOS.
TAN2 is an update to Acustica Audio's original TAN compressor plugin.
TAN2 makes it easy to tweak compression settings to your liking by featuring a user interface based on traditional analog rack-mounted compressors.
While most consider analog effects the gold standard of production gear, they had a few significant downsides. The physical size and expensive price tag made most rack-mounted inaccessible to most non-professional producers.
Thankfully, modern advancements in emulation technology have led to the creation of virtual plugins that come mighty close to the analog gear they aim to model.
At the forefront of TAN2's emulated rack is a set of standard compression controls. There's a gain reduction meter followed by the threshold, ratio, attack, and release controls.
Unlike some modern compression plugins, the TAN2 doesn't give you as much to look at visually other than the gain reduction meter.
This lack of visual aid ultimately contributes to an old-school approach to using effects. Before the recent advancements in software technology, generations of producers spun the knobs and used their ears to get their effects sounding just right.
Beyond these standard compression controls is another dial called "SHMod," which essentially acts as a look–ahead and controls how exactly the compressor will apply the attack controls to reduce peaks.
TAN2 also includes a built-side chain feature, standard HPF, gain control, and a master dry/wet knob.
To curb CPU usage, TAN2 also utilizes a new "Hyper Engine." Acustica Audio claims, "the speed of these new compressors can be further increased by oversampling while keeping the power consumption at 1/12th of standard compressors."
A preset folder is included so that users can access numerous presets ready to use for the specific instrument you're working with.
This plugin has a resizable interface for those working with a larger monitor. Users can select between standard 1x magnification or up it to 1.5x and 2x as desired.
TAN2 is compatible with Windows 10 and newer or mac OS Monterrey and more recent. This plugin is available in VST2, VST3, AAX, and AU formats.
The download/installation of this plugin requires that you create an account on the Acustica Audio website and then download the Aquarius Desktop application. Once downloaded, you can then install the TAN2 plugin through the application.
Download:
More:
---
↑↑↑ 上方链接直接到达 ↑↑↑
资讯出处:Acustica Audio Releases FREE TAN2 Compressor Plugin - Bedroom Producers Blog