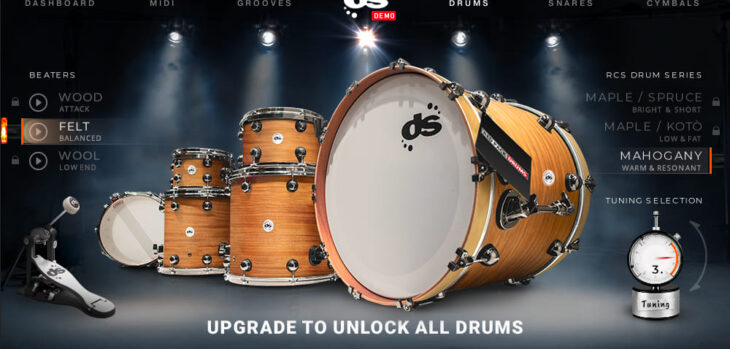 Red Pack Drums offers a FREE demo of their DS Drum – RCS Essentials Mahogany drum kit for Kontakt Player.
Drums are often the foundation of any great song or musical production. They set the groove and breathe life into a track.
While some people might have access to a kit and microphones to record it, most rely on samples and virtual kits to get the job done.
The Mahogany kit, a FREE demo from the DS Drum – RCS Essentials pack by Red Pack Drums, offers ready-to-use drum sounds with an intuitive interface.
Unlike some drum kits or sample packs, the samples found within the Mahogany kit are pre-mixed and ready to go straight into your track!
Red Pack Drums claims that their Mahogany drums "provide deep, rich low-end, warmth, powerful punch with an elegant dark tone."
The drums within this kit are compiled from over 20,000 real-life samples. This results in a very accurate and organic drum sound.
Users can select from over 33 drum sounds to ideally configure their kit.
There are two main snares to select from, each with three different tunings. So essentially, you're getting a total of six snare sounds.
I found that these snare sounds have an excellent, crisp sound that fits well in the mix right out of the box.
Beyond the snares, we also get three kicks; each has three different tunings so that you can match the song you're working on more quickly.
Finally, there are 12 Tom sounds and six cymbals to complete the kit.
The user interface hosting the Mahogany kit is very user-friendly and allows producers to load up quickly, exchange, and manipulate drums sounds to their liking.
Additionally, this virtual kit is midi-compatible. Those looking to play finger drums with their keyboard or use an electronic drum kit will find it easy to load up and assign Mahogany samples.
A final touch is Red Pack Drum's inclusion of artist grooves. This allows producers to choose from a handful of drum grooves based on the playing of real drummers.
The Mahogany Demo Kit by Red Pack Drums is compatible with the FREE and full versions of the Kontakt Player.
To claim this kit, follow the Red Pack Drums website link. Add the FREE plugin to your cart, check out, and you'll receive download/installation instructions!
Download:
DS Drum – RCS Essentials DEMO "Mahogany"
More:
---
↑↑↑ 上方链接直接到达 ↑↑↑
资讯出处:Red Pack Drums Releases DS Drum FREE For Kontakt Player - Bedroom Producers Blog