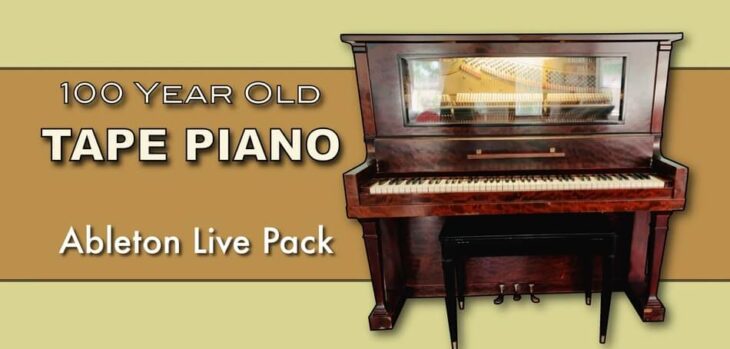 Brian Funk releases the 100-Year-Old Tape Piano, a free Ableton Live Pack featuring the sounds of an old upright piano.
The 100-year-old tape piano pack by Brian Funk is, as the name implies, an Ableton Live pack based on recordings of his 100-year-old upright piano.
The piano in mention is a 1913 Kranich and Bach upright piano. Kranich and Bach were established in the 1860s and were notorious for building high-quality and expensive pianos.
To optimize the tone of this piano, Brian Funk brought in his piano-technician friend to tune it up and get it sounding at its absolute best.
Once his technician fixed it up, Brian said, "to celebrate its new life, I sampled every note 3 times to reel to reel tape on my Tascam 388 8-Track. Using the tape-kissed samples, I built an all-new Ableton Live Instrument Rack complete with 16 Macro Controls and 10 Macro Preset Variations."
Often, virtual instrument samplers contain high-quality samples but still sound dull and sterile when played. This tape piano pack will randomly select one of the three sample recordings each time a note is played.
These variations in sample selection ensure a rich, organic sound that's unique to every new note or chord played.
Additionally, the recording of these piano sounds with real tape gives it a warm, vintage feel that compliments the tone of this century-old piano.
This pack can yield some piano sounds that would fit well in Lofi hip-hop, deep house, and even indie rock.
Ten macro variation presets are included in the 100-Year-Old Tape Piano pack. These give users options such as classic Hall piano sounds, Lo-fi, and even some stranger variations such as "Big Mystery."
Within each preset is the ability to dial in 16 macro controls.
With these macro controls, producers can choose to control the levels of attack, delay, and reverb. Additionally, there is a frequency filter and damper, timbre, and tremolo controls.
The 100-Year-Old Tape Piano Pack requires Ableton Live 11.1 Lite or above.
To purchase this Instrument Rack, follow the link to the Brian Funk website and click "Buy Tape Piano Ableton Live Pack." Once you've checked out and purchased the item, you'll receive download/installation instructions.
Download:
100-Year-Old Tape Piano (requires Ableton Live)
More:
---
↑↑↑ 上方链接直接到达 ↑↑↑
资讯出处:Brian Funk Releases FREE 100-Year-Old Tape Piano For Ableton Live - Bedroom Producers Blog